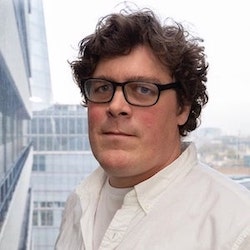 When: Tuesday, June 23, 2020
10:00 AM - 11:00 AM
Where: Online
Webcast Link
Audience: Faculty/Staff - Post Docs/Docs - Graduate Students
Contact: Dr. Hank Seifert 312.503.9788

Group: Department of Microbiology-Immunology Seminars/Events
Category: Lectures & Meetings
Description:
Seminar Title:
"Structural and Cellular Studies of Escherichia coli SslE: Biofilms, Mucosa and Beyond"
Speaker:
Dr James Garnett
Senior Lecturer in Structural Bacteriology
King's College London
Centre for Host Microbiome Interactions
Host: Hank Seifert, PhD /  Professor, Dept. of Microbiology-Immunology
Zoom Link: https://northwestern.zoom.us/j/94639957938
Topic:
Escherichia coli is a Gram-negative bacterium that colonizes the human intestine. Many E. coli strains are considered beneficial to the host and help to maintain a healthy immune system. However, virulent strains are the cause of severe diarrhoeal diseases, including haemorrhagic colitis, and extraintestinal diseases such as neonatal meningitis, urinary tract infections, sepsis and pneumonia. The protein SslE is secreted by both commensal and pathogenic E. coli strains, where it can bind to the bacterial surface, and it has shown great promise as a broadly protective vaccine candidate and a potential immunotherapeutic target against E. coli sepsis. SslE can degrade major mucins in the intestine to facilitate penetration of the host mucosa, but it is also essential for the maturation of biofilms and is fundamental for intestinal colonization in a rabbit model of enteropathogenic E. coli infection. Using electron microscopy and other biophysical and biochemical analyses I will describe the overall structural features of SslE and relate these to its function as a mucolytic enzyme. I will also show how under acidic conditions SslE undergoes subtle changes that lead to the formation of polymeric amyloid-like structures. Through studying WT and sslE mutant strains in liquid culture and during biofilm growth, I will then show how aggregation of SslE is observed under these conditions and coincides with local changes in pH. This work indicates that the spatial organization of SslE polymers is critical for the overall architecture of these biofilms and SslE is a key factor that drives the persistence of SslE secreting bacteria during acidic stress.