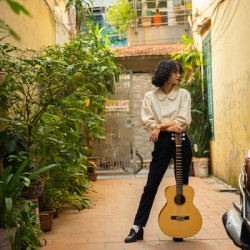 When: Wednesday, August 19, 2020
11:00 AM - 12:00 PM Central
Where: Online
Webcast Link
Audience: Faculty/Staff - Student - Public - Post Docs/Docs - Graduate Students
Cost: FREE
Contact: Global Learning Office (847) 467-6400

Group: Northwestern Buffett Global Learning Office
Category: Academic, Multicultural & Diversity, Global & Civic Engagement
Description:
1975 marks the Fall of Saigon as the last American troops left South Vietnam and the country was united by Vietnam's Communist party. Since then, the nation has gone through significant changes from a war-torn and hunger-stricken state to a period of socialist subsidy in the 1980s and current day's development miracle as one of the world's fastest growing economies. Rapid economic growth and the opening up of Vietnam to the outside world, on the other hand, brought along abrupt changes in its society's sociocultural fabrics. Nowadays, in the era of smartphones and internet, young Vietnameses struggle to connect with their parents and grandparents generations.
Outside of Vietnam, however, most of the world knows very little of Vietnam. Many people view it as a country that fought the Americans during the Vietnam War, or as an exotic vacation destination for tourists. This discussion aims to introduce a quick look into the cultural changes in today Vietnamese society, focusing on its young generation and their struggle with finding identities and connections. From exploring how these changes are both unique and similar to other societies, particularly from an American perspective, it hopes to offer some insights into the complex relationship of cultures and identities, and to bridge understandings between Vietnam, the U.S and the world.
Wednesday, August 19
11:00 AM - 12:00 PM CDT
RSVP for Zoom Link: https://northwestern.az1.qualtrics.com/jfe/form/SV_8CXd3xBagqbEQNn
Speaker Bios:
Jade D. Chase is an experienced leader and entrepreneur with a focus in healthcare and nursing (RN) innovation, marketing, business management and actuarial mathematics. Veteran of the United States Air Force Nursing Corps, Jade has an Executive MBA from Boise State University and is the co-founder of Intuitive RN and owner and general manager at 18Ninety Creative, a production company based in Idaho. 
Nancy K. Napier, Ph.D, is a Distinguished Professor at Boise State University (USA) and an Adjunct Professor at Aalborg University (Denmark). She has published in such areas as organizational creativity, innovation and emerging economies including Vietnam. In 2017, she received Vietnam's Medal of Friendship for more than 20 years of contribution to the country's education.
Dau Thuy Ha is the Chairman of OCD Management Consulting and OMT Online Management Training Company. Ms. Ha has nearly 20 years of experience in business development and customer service management at multinational companies such as Daewoo Corporation, Hewlett-Packard, especially in the financial services industry. Together with Dr. Nancy, Ha co-authored a trilogy named "The Bridge Generation of Vietnam", a compilation of profiles and essays relating to three critical time periods in Vietnam's recent history from wartime to modern times.
About #GLOVicariously Webinar Series:
Amidst the global COVID-19 pandemic and ongoing anti-racism protests, global engagement across difference and development of intercultural skills are critically needed to build a more just and peaceful world. As the Global Learning Office, we know that travel restrictions and social distancing guidelines have halted student mobility and study abroad programming, but want to continue fostering global learning opportunities for students throughout this summer 2020 through our virtual webinar series, #GLOVicariously. #GLOVicariously webinars will feature speakers involved in GLO programs who have expertise on a variety of critical global issues. Students will gain a greater understanding of these topics and more while learning more about the cultural contexts and systems in which they unfold. This webinar series is intended primarily for students, but is open to anyone who wishes to attend.