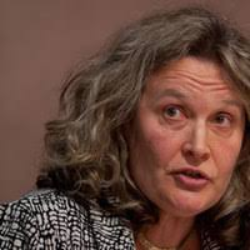 When: Friday, October 9, 2020
12:00 PM - 1:00 PM CT
Where: Online
Webcast Link
Audience: Faculty/Staff - Post Docs/Docs - Graduate Students
Contact: Cindy Pingry

Group: WCCIAS
Category: Academic, Lectures & Meetings, Fitness & Recreation, Global & Civic Engagement
Description:
Please join us for the Global Lunchbox series, a weekly conversational forum hosted by the Weinberg College Center for International and Area Studies featuring work-in-progress by members of the Northwestern community.
About the Talk
In her new book Democracy without Shortcuts: A Participatory Conception of Deliberative Democracy, Northwestern professor Cristina Lafont articulates a participatory conception of deliberative democracy that takes the democratic ideal of self-government seriously. It aims to improve citizens' democratic control and vindicate the value of citizens' participation against conceptions that threaten to undermine it.
The book critically analyzes deep pluralist, epistocratic, and lottocratic conceptions of democracy. Their defenders propose various institutional ''shortcuts'' to help solve problems of democratic governance such as overcoming disagreements, citizens' political ignorance, or poor-quality deliberation. However, all these shortcut proposals require citizens to blindly defer to actors over whose decisions they cannot exercise control. Implementing such proposals would therefore undermine democracy. Moreover, it seems naive to assume that a community can reach better outcomes 'faster' if it bypasses the beliefs and attitudes of its citizens.
Lafont argues that there are no 'shortcuts' to make a community better than its members. The only road to better outcomes, she contends, is the long, participatory road that is taken when citizens forge a collective will by changing one another's hearts and minds. However difficult the process of justifying political decisions to one another may be, skipping it cannot get us any closer to the democratic ideal. Starting from this conviction, the book defends a conception of democracy ''without shortcuts''. This conception sheds new light on long-standing debates about the proper scope of public reason, the role of religion in politics, and the democratic legitimacy of judicial review. It also proposes new ways to unleash the democratic potential of institutional innovations such as deliberative minipublics.
About the Speaker
Cristina Lafont is the Harold H. and Virginia Anderson Professor of Philosophy, Director of the Program in Critical Theory, and co-director of the Research Group on Global Capitalism and Law at Northwestern.
She is the author of Democracy without Shortcuts: A Participatory Conception of Deliberative Democracy (2020), Global Governance and Human Rights (2012), Heidegger, Language and World-Disclosure (2000), and The Linguistic Turn in Hermeneutic Philosophy (1999). She is co-editor of Critical Theory in Critical Times: Transforming the Global Political and Economic Order (2017) and The Habermas Handbook (2017).
She has also published numerous articles on themes such as sovereignty, human rights, and the Responsibility to Protect. Her current research focuses on normative questions in political philosophy concerning democracy and citizen participation, global governance, human rights, religion and politics. In 2011 she was named to the Spinoza Chair at the University of Amsterdam, and in 2012/13 she was a Fellow at the Institute for Advanced Study in Berlin.
Join Zoom Meeting:
https://northwestern.zoom.us/j/92971136816
Meeting ID:
929 7113 6816
One tap mobile
+13126266799,,92971136816# US (Chicago)