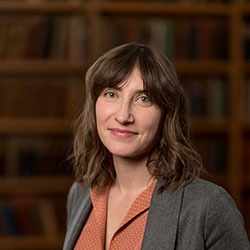 When: Friday, March 5, 2021
12:00 PM - 1:00 PM CT
Where: Online
Audience: Faculty/Staff - Post Docs/Docs - Graduate Students
Contact: Cindy Pingry

Group: WCCIAS
Co-Sponsor: Middle East and North African Studies

Category: Academic, Lectures & Meetings, Global & Civic Engagement
Description:
Please join us for the Global Lunchbox series, a weekly conversational forum hosted by the Weinberg College Center for International and Area Studies featuring work-in-progress by members of the Northwestern community.
About the Talk
Rebecca Johnson, Director of the Middle East and North African Studies Program and Associate Professor of English and the Humanities at Northwestern, will discuss her new book, Stranger Fictions: A History of the Novel in Arabic Translation (Cornell University Press, January 2021).
Widely cited as the first Arabic novel, Zaynab appeared in 1913. Yet over the previous eight decades, hundreds of novels translated into Arabic from English and French were published, creating a vast literary corpus that influenced generations of writers across the Arabic world but that has, until now, been considered only as a curious footnote in the genre's history. In Stranger Fictions, Rebecca Johnson offers a transformative new account of modern Arabic literature by incorporating these works into the history the Arabic novel.
Considering the wide range of 19th- and early 20th-century translation practices—including "bad translation," mistranslation, and pseudo-translation—Johnson argues that the circulation of European novels and genres in the Arabic world, and the multiple translation practices that enabled it, form the conceptual and practical foundations of Arab literary modernity, which includes the development of Middle Eastern print culture, the cultivation of a reading public, the standardization of Modern Arabic, and the establishment of modern literary canons.
Taking readers chronologically through nearly a century of translations published in Beirut, Cairo, Malta, Paris, London, and New York, from the 1835 publication of Qissat Rūbinsun Kurūzī (The Story of Robinson Crusoe) to translated and pastiched crime stories appearing in the early 20th-century Egyptian magazines, Stranger Fictions affirms the central place of translation and mistranslation, not only in the history of the novel in Arabic but of the novel as a transnational form itself.
About the Speaker
Rebecca Johnson is Director of the Middle East and North African Studies Program and Associate Professor of English and the Humanities at Northwestern. She is co-appointed in the Department of English and the Alice Kaplan Institute for the Humanities, and is a core faculty member of the Comparative Literary Studies Program. Johnson is a scholar of Arabic and comparative literature, with a focus on translation, literary exchange, and the transnational circulation of texts and forms. Among the courses she teaches are Making the Modern Middle East: Culture, Politics, History, Middle Eastern Literature and the World, Postcolonial Noir, The Arabian Nights, Reading Cosmopolitanism, Literature and Resistance, Translation Problems, and a College Seminar on conspiracy theories. She is Associate Editor of the Journal of Arabic Literature.
Register in advance for this meeting:
https://northwestern.zoom.us/meeting/register/tJYpfuqopzovG9Xf6M_6rGni22HRHkk4tDn6