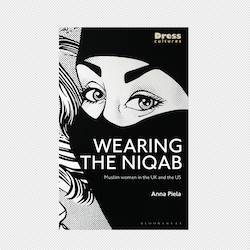 When: Tuesday, December 8, 2020
1:00 PM - 2:30 PM Central
Where: Online
Audience: Faculty/Staff - Student - Post Docs/Docs - Graduate Students
Contact: Rossitza Guenkova-Fernandez (847) 491-3611

Group: Religious Studies Department
Category: Academic
Description:
Presentation by Dr. Anna Piela, a Visiting Scholar of Gender and Islam, on her new book, "Wearing the Niqab: Muslim Women in the UK and the US".
Anna Piela is a visiting scholar in religion and gender at
Northwestern University. With a PhD in Women's Studies from the
University of York, UK, she has worked as a lecturer in religious
studies at Leeds Trinity University, and a research consultant for the
Muslim Women's Council in Bradford, both in the UK. Her research
interests are at the intersection of Islam, gender, and language. Her
first monograph, Muslim Women Online: Faith and Identity in Virtual
Space (2012) explored theological debates held by Muslim women who
interpreted and discussed Islamic texts in online discussion groups.
She has published in top religious studies journals, including the
Journal of American Academy of Religion, Journal of Women of the
Middle East and the Islamic World, and The Muslim World.
Contact religious-studies@northwestern.edu if you are interested in joining the event.