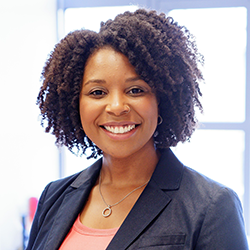 When: Monday, November 2, 2020
12:00 PM - 1:00 PM
Where: Online
Webcast Link
Audience: Faculty/Staff - Student - Post Docs/Docs - Graduate Students
Contact: Vanessa Gonzalez 312.503.7959

Group: Department of Cell and Developmental Biology
Category: Lectures & Meetings
Description:
 
CELL & DEVELOPMENTAL BIOLOGY DEPARTMENT FACULTY CANDIDATE SEMINAR:
"Investigating the spatial and temporal dynamics of mitophagy in neurons"

Speaker
Chantell Evans, PhD
Postdoctoral Fellow
Holzbaur Lab, Department of Physiology
University of Pennsylvania
Join Us
Monday, November 2, 2020
12:00 – 1:00 PM
Zoom Link:  https://northwestern.zoom.us/j/99529958497
Meeting ID: 995 2995 8497
Password: available upon request
Dial-in: +1 312 626 6799
Abstract
Damaged mitochondria are removed from the cell in a process termed mitophagy. This pathway is likely to be important for neuronal homeostasis, as mutations in pathway components cause Parkinson's disease and ALS. We used live imaging to investigate the spatiotemporal dynamics of mitophagy in primary neurons following mild oxidative stress. Mitophagy-associated proteins, including Parkin, TBK1, and OPTN rapidly translocate to depolarized mitochondria and damaged organelles were efficiently sequestered within autophagosomes within an hour of damage. Surprisingly, the downstream degradation of engulfed mitochondria was delayed, primarily due to the slow acidification of the resulting mitophagosomes. Expression of an ALS-associated mutation in OPTN was sufficient to disrupt mitochondrial network function and mild oxidative stress further exacerbated this effect. These results suggest that slow turnover of damaged mitochondria may increase neuronal susceptibility to neurodegeneration.
Related Publication:
Evans, C.S., Holzbaur, E.L.F. 2020. Degradation of engulfed mitochondria is rate-limiting in Optineurin-mediated mitophagy in neurons. eLife. 9:e50260.
Host: CDB Faculty Search Committee 
 
 
 
Click here to subscribe to the department seminar series or for more information please contact Vanessa Gonzalez, vanessa.g@northwestern.edu