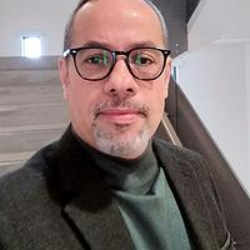 When: Tuesday, January 5, 2021
12:30 PM - 1:30 PM Central
Where: Online
Audience: Faculty/Staff - Post Docs/Docs - Graduate Students
Cost: Free
Contact: Danny Postel

Group: Latin American and Caribbean Studies
Category: Academic, Lectures & Meetings, Multicultural & Diversity, Global & Civic Engagement
Description:
Jairo Lugo-Ocando is director of executive and graduate education and professor in residence at Northwestern University in Qatar (NU-Q). He previously served as an associate professor and deputy head at the School of Media and Communication at the University of Leeds and was the head of the MA in Global Journalism program at the University of Sheffield.
His authored, co-authored, edited, and co-edited books include The News Media in Puerto Rico: Journalism in Colonial Settings and in Times of Crises (2020), Foreign Aid and Journalism in the Global South (2020), Poor News: Media Discourses of Poverty in Times of Austerity (2017), Developing News: Global journalism and the Coverage of "Third World" Development (2017), and Blaming the Victim: How Global Journalism Fails Those in Poverty (2014).
Before entering academe, he served as news editor-in-chief of Venezuela's Dairio La Verdad and worked as a journalist and freelance writer for several news organizations in Venezuela, Peru, Colombia, and the US.
Register:
https://northwestern.zoom.us/meeting/register/tJIvdeigpjosHtOk-VY9k4I83tSJLAi54IUt