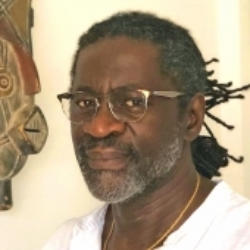 When: Thursday, March 18, 2021
2:00 PM - 3:30 PM Central
Where: Online
Audience: Faculty/Staff - Student - Public - Post Docs/Docs - Graduate Students
Cost: Free
Contact: Danny Postel

Group: Latin American and Caribbean Studies
Co-Sponsor: African American Studies Department
Andean Cultures and Histories Working Group

Category: Academic, Lectures & Meetings, Multicultural & Diversity, Global & Civic Engagement
Description:
This event, originally scheduled for Tuesday March 9 at 12:30 p.m. CT, has been rescheduled for Thursday March 18 at 2:00 p.m. CT.
Please join the Latin American and Caribbean Studies Program, the Department of African American Studies, and the Andean Cultures and Histories Working Group for this lecture by Jerome Branche in the Afro-Latin America: Representation, Politics, History series.
About the talk
Of the chroniclers who narrated the arrival and military and civilizational triumph of Spain and its American empire, few, if any, addressed the captive Africans in any sustained manner, these latter being presumably beneath their writerly dignity, and made invisible on account of their status in slavery. The Jesuit Alonso de Sandoval's De instauranda Aethiopum salute (1627) is unique in this regard, particularly considering the resonant contemporary political and theological debates concerning the subjectivity of the Amerindians or native Americans ( i.e. whether they were human, whether they could legally be enslaved, considered vassals of the crown, should be given special consideration for evangelization, and so on).
In De instauranda, a wide-ranging work whose primary objective is to provide a manual for conversion following the Jesuit mandate for universal evangelization, we see detailed attention to arriving and recently arrived Black African bodies and to continental African culture that offers an early ethnographic account that attends to various aspects of their (racialized) difference, in such a way that even as Sandoval's empathy for their suffering in slavery is made clear, as is their belonging to a same larger human community, his inability to transcend the presumption of superiority attendant to evangelization as a founding principle of empire, is inescapable.
The resultant instances of cognitive dissonance in his manual, that would propagandize saving Black souls even as Black bodies are sacrificed on the altar of colonial profit and servitude, provide telling insights as to the pitfalls of putative (transracial) allyship and solidarity, that are as instructive for his time as they are for ours. Kamau Brathwaite's insight regarding the subjectivity and importance of Middle Passage arrivants, a topic that has received scant attention — whether from historians, diaspora scholars, or from Latin Americanists — provides a fruitful point of departure for a re-consideration of Sandoval (as White savior), within the wider framework of coloniality.
About the speaker
Jerome Branche is Professor of Latin American Literature and Cultural Studies and Chair of the Department of Hispanic Languages and Literatures at the University of Pittsburgh. His teaching and his research focus on racialized modernity and the way creative writers across the Atlantic imagine and write about slavery, freedom, the nation, being, and gender.
He is the author of Colonialism and Race in Luso-Hispanic Literature (2006) and The Poetics and Politics of Diaspora: Transatlantic Musings (2014) and editor of Race, Colonialism, and Social Transformation in Latin America and the Caribbean (2008), Black Writing, Culture and the State in Latin America (2015), and Post/Colonialism and the Pursuit of Freedom in the Black Atlantic (2018). His current book projects study the necropolitics of slavery, and race in the imaginary of empire and its aftermath.
Professor Branche has served on the Executive Board of the Association for the Study of the Worldwide African Diaspora (ASWAD) and as chair of the Ethnicity, Race, and Indigenous Peoples section of the Latin American Studies Association (LASA). He is currently Director of Publications for the Instituto Internacional de Literatura Iberoamericana.. At the Instituto he is editing a series of afro-related narratives and critical works, the Serie Malunga.
This event is free and open to everyone, but registration is required:
https://northwestern.zoom.us/meeting/register/tJYsceypqTgjGdCAZ-HBYUGVV-8vqyfGYQs7