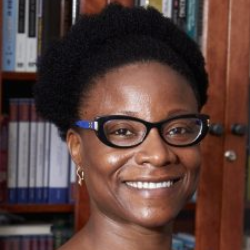 When: Tuesday, April 13, 2021
12:30 PM - 2:00 PM CT
Where: Online
Audience: Faculty/Staff - Student - Public - Post Docs/Docs - Graduate Students
Cost: Free
Contact: Danny Postel

Group: Latin American and Caribbean Studies
Co-Sponsor: African American Studies Department
Andean Cultures and Histories Working Group

Category: Academic, Lectures & Meetings, Multicultural & Diversity, Global & Civic Engagement
Description:
Please join the Latin American and Caribbean Studies Program, the Department of African American Studies, and the Andean Cultures and Histories Working Group for this lecture by Keisha-Khan Y. Perry in the Afro-Latin America: Representation, Politics, History series.
About the talk
Carmen Silva, house-less activist and political candidate in São Paulo, has stated that "nós não queremos morar nas periferias das periferias (we do not want to live on the periphery of the periphery)." This lecture focuses on the creative ways that Black women in Brazil are mobilizing their communities to occupy the central areas of cities. The coronavirus pandemic has revealed how deteriorating urban housing conditions have made an already vulnerable gendered racialized poor even more susceptible to policing, infrastructural neglect, and violent evictions. Yet, activists continue to fight for the basic human right to housing, emphasizing their right to occupy the city and challenging social and spatial marginalization.
About the speaker
Keisha-Khan Y. Perry is Associate Professor of Africana Studies at Brown University. She specializes in race, gender and politics in the Americas, urban geography and questions of citizenship, intellectual history and disciplinary formation, and the interrelationship between scholarship, pedagogy and political engagement. Her first book, Black Women against the Land Grab: The Fight for Racial Justice in Brazil (2013), is an ethnographic study of black women's activism in Brazilian cities, specifically an examination of black women's participation and leadership in neighborhood associations, and the re-interpretations of racial and gender identities in urban spaces. It won the National Women's Studies Association 2014 Gloria E. Anzaldúa Book Award.
She is currently writing "Anthropology for Liberation: Research, Writing and Teaching for Social Justice," a book that draws heavily from her ethnographic research experience in Brazil with an emphasis on the complexity of doing activist research amidst racial and gender violence. She is also working on two other book projects: "The Historical Paradox of Citizenship: Black Land Ownership and Loss in the Americas" and "Evictions and Convictions," which represent a continuation of her ongoing research on black land loss and ownership in relationship to the material articulation of citizenship in Brazil, Jamaica, and the United States.
This event is free and open to everyone, but registration is required:
https://northwestern.zoom.us/meeting/register/tJIud-mqrj0pEtBaL5O2D30ANCNwa5Wqvz6U