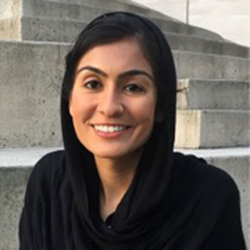 When: Wednesday, January 13, 2021
11:00 AM - 12:00 PM Central
Where: Online
Audience: Faculty/Staff - Student - Post Docs/Docs - Graduate Students
Contact: Yael Meyer

Group: Department of Cell and Developmental Biology
Category: Lectures & Meetings
Description:
Center for Synthetic Biology and Department for Cell & Developmental Biology Faculty Candidate Presentation:
Chalk Talk
Dr. Anum Azam Glasgow
Postdoctoral Researcher in Tanja Kortemme Lab,
Bioengineering Department
University Of California San Francisco
https://northwestern.zoom.us/j/97005216026
Meeting ID: 970 0521 6026
Password: please inquire with yael.mayer@northwestern.edu
Natural proteins have evolved to perform functions that enable life. These proteins can assemble into complexes, interact with other biomolecules, and undergo structural changes in response to perturbations. How can we engineer new proteins for sophisticated artificial functions in cells and tissues? In this talk, I will describe three ways that we can build new functions in proteins. First I'll discuss the de novo design of a flexible, modular protein-based sense/response system. In this project, we computationally designed a new small molecule binding site in a protein-protein interface and linked small molecule detection to various outputs, such as fluorescence, luminescence, and cell survival. Next, I will share ongoing work to understand the signal transduction mechanism in a classic transcription factor, towards engineering new allosteric proteins. Finally, I will describe our recent project to combine computational and experimental protein engineering methods to rapidly build potent SARS-CoV-2 biotherapeutics. These projects lay the groundwork for a new approach in characterizing complex disease mechanisms and engineering powerful protein-based therapeutics.