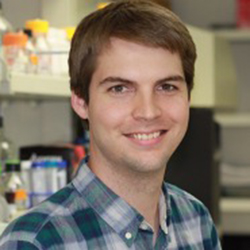 When: Tuesday, January 19, 2021
11:00 AM - 12:00 PM Central
Where: Online
Audience: Faculty/Staff - Student - Post Docs/Docs - Graduate Students
Contact: Yael Meyer

Group: Department of Cell and Developmental Biology
Category: Lectures & Meetings
Description:
Center for Synthetic Biology and Department for Cell & Developmental Biology Faculty Candidate Seminar:
"The Hidden World of CRISPR-Cas Inhibitors"
Dr. Kevin Forsberg 
Postdoctoral Researcher In Harmit Malik Lab, 
Basic Sciences
Fred Hutchinson Cancer Research Center
https://northwestern.zoom.us/j/99965024201
Meeting ID: 999 6502 4201
Password: inquire with yael.mayer@northwestern.edu
Bacteria encode a diverse array of molecular systems to defend against infecting phages. In response, phages have devised many counter-defense strategies to overcome this immunity and re-establish infection. For instance, CRISPR-Cas systems are pervasive in bacteria to defend against phages, which use small inhibitory proteins called anti-CRISPRs (Acrs) to overcome CRISPR-Cas immunity. While CRISPR-Cas systems are widespread, the natural diversity of Acrs and their impact on microbial ecosystems is underappreciated, largely because they are difficult to identify. To overcome this discovery bottleneck, we developed a high-throughput functional selection that isolates acr genes based on their ability to inhibit CRISPR-Cas function. Using this selection, we discovered ten DNA fragments from human oral and fecal metagenomes that protect against Streptococcus pyogenes Cas9 (SpyCas9). The most potent Cas9-inhibiting clone from our selection was recovered from a Lachnospiraceae phage and encodes a novel, broadly acting, and widely distributed Acr, which we name AcrIIA11. Using in vitro biochemistry, we demonstrate that AcrIIA11 functions via a mechanism distinct from that of previously characterized Acrs to inhibit SpyCas9. A second Acr from this selection, AcrIIA22, does not engage with SpyCas9, but rather relieves the torsional stress in supercoiled plasmids, making them susceptible to SpyCas9 interference. This entirely novel anti-CRISPR mechanism is probably effective because SpyCas9 relies on negative supercoils to form stable R-loops and efficiently cleave target DNA. More generally, this work highlights the power of functional metagenomic selection to uncover new genes and new mechanisms used in the arms race between bacteria and their phages.