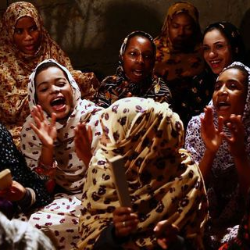 When: Monday, March 8, 2021
12:00 PM - 1:30 PM CT
Where: Online
Audience: Faculty/Staff - Student - Public - Post Docs/Docs - Graduate Students
Cost: Free
Contact: Danny Postel

Group: Middle East and North African Studies
Category: Global & Civic Engagement, Academic, Lectures & Meetings, Multicultural & Diversity
Description:
Registration is required for this event:
bit.ly/dingomaro
Please join the MENA Graduate Student Group for this dialogue with the Iranian filmmaker Kamran Heidari, director of the documentary Dingomaro: Iran's Black South, moderated by Hamed Yousefi, PhD candidate in Art History and MENA Studies.
The film is now available to stream — here are the instructions for accessing it:
1. To view the film, please visit https://bit.ly/watch-dingomaro
2. You will be prompted to sign in using your NU NetID and password.
3. You will then be automatically directed to the webpage from which you can view the film.
The film will be available for viewing at the above link until Monday, March 8, at 12:00 p.m. CT. If you experience any difficulties accessing the film, please consult the alternative access instructions below.
Please be advised that, from 28:00-28:35, the film depicts the slaughter of a goat.
We hope you enjoy the film, and we look forward to welcoming you and any questions you have for the filmmaker at our dialogue event Monday at noon CT!
Alternative Access Instructions:
1. Visit https://media.northwestern.edu/
2. Sign in using your NetID and password via the "SIGN IN" link at the top right of the webpage
3. Search for "Dingomaro" using the "Search audio or video" bar at the top right of the webpage
4. Click the search result titled "Dingomaro: Iran's Black South" to navigate to the webpage from which you can view the film
About the Film
Hamid Said has become one of the most famous black musicians in Iran. He's travelling by motorbike across the province of Hormozgan, which is situated in the south of the country on the Persian Gulf, in order to realise his dream of organizing a concert with the best black musicians in the country. Besides Persians, Indians, Arabs and Europeans, Iran's "black south" has been influenced primarily by the descendants of slaves and merchants from Africa. Although Shiites, they still hold Voodoo ceremonies. Filmmaker Kamran Heidari accompanies Hamid Said as he attempts to make his dream come true.
Watch the trailer
https://youtu.be/EA_-GsYtOo8
Register for Monday's dialogue event
https://bit.ly/dingomaro