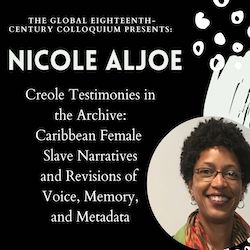 When: Thursday, February 25, 2021
12:00 PM - 1:30 PM Central
Audience: Faculty/Staff - Student - Public - Graduate Students
Contact: Rebekah (Beka) Bryer

Group: Upcoming Public Humanities Related Events
Category: Academic, Lectures & Meetings
Description:
Recent scholarship has made clear how closer examination, coupled with reading against the traditional grain, reveals more traces of the lives and voices of enslaved Black people documented in the archives. In addition to this work, innovations in digital tools and techniques have also played a major and significant role in recovering these 'other' voices, previously 'hidden' or 'undervalued' in the archives. Focusing on representations of the voices of enslaved Afro-Caribbean women as a case study, this talk will explore the connections between these two literary strategies, not only to highlight the crucial ways in which these ephemeral and often fragmentary "creole testimonies" of enslaved women can contribute to greater understandings of the possibilities of their lives within Caribbean Colonial societies, but also to offer a model of the productive ways in which digital tools informed by an understanding of Black life "as deep rich, full of infinite gender possibilities, kinship narratives, and affective knowledge" (J.M. Johnson), can complicate discursive and archival geographies and consequently facilitate more effective efforts to decolonize the archives of African Atlantic slavery.

Nicole Aljoe is Associate Professor of English and Africana Studies at Northeastern University and the Director of Africana Studies, Co-Director of The Early Caribbean Digital Archive, Director of the Early Black Boston Digital Almanac, and the author of Creole Testimonies: Slave Narratives from the British West Indies, 1709-1836 (Palgrave 2012). 

This event is co-sponsored by the English Department, the Department of African American Studies, the British Studies Cluster, and the Kaplan Digital Humanities Pedagogy Workshop.
Zoom registration link: Register for the event

This talk is hosted by the Global Eighteenth Century Workshop in the English Department.