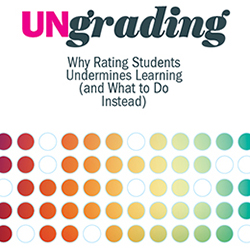 When: Tuesday, March 9, 2021
12:00 PM - 2:00 PM Central
Where: Online
Audience: Faculty/Staff - Post Docs/Docs - Graduate Students
Cost: Free. Pre-registration required.
Contact: Liz Laurie

Group: Alice Kaplan Institute for the Humanities
Category: Academic
Description:
The Digital Humanities Pedagogy Graduate Workshop of the Kaplan Humanities Institute presents a discussion of Susan D. Blum's new book, Ungrading: Why Rating Students Undermines Learning (and What to Do Instead).
The moment is right for critical reflection on what has been assumed to be a core part of schooling. In Ungrading, fifteen educators write about their diverse experiences going gradeless. Some contributors are new to the practice and some have been engaging in it for decades. Some are in humanities and social sciences, some in STEM fields. Some are in higher education, but some are the K–12 pioneers who led the way. Based on rigorous and replicated research, this is the first book to show why and how faculty who wish to focus on learning, rather than sorting or judging, might proceed. It includes honest reflection on what makes ungrading challenging, and testimonials about what makes it transformative.
SPACE IS LIMITED! A copy of Blum's e-book will be provided.
Susan D. Blum is professor of anthropology at the University of Notre Dame. Her work on education builds on her academic specialties of linguistic, psychological, cultural, and educational anthropology. She is the author of My Word! Plagiarism and College Culture and "I Love Learning; I Hate School": An Anthropology of College, among other works.
Email Liz Laurie for questions or the waitlist: elizabethslaurie@gmail.com