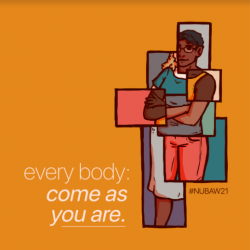 When: Tuesday, February 23, 2021
All day
Where: Online
Audience: Student
Contact: Jill Norton 847.467.5221

Group: Paw Print Events
Category: Other
Description:
We invite you celebrate Body Acceptance Week 2021: Every Body: Come As You Are.
BAW2021 will explore body acceptance through an intersectional lens. Join us for a week of exciting and thought-provoking content, and plan to attend our live virtual events:Tuesday,
February 23 at 6:00 PM: "Eating Disorders & Intersectionality," a live virtual event with the Renfrew Center
Thursday, February 25 at 6:00 PM: "College Feminists Presents: Virgie Tovar," one of the nation's leading experts and lecturers on weight-based discrimination and body image.
Visit the Wellness at Northwestern Body Acceptance Week page for full details, and be sure to follow HPaW (Health Promotion and Wellness) and CAPS (Counseling and Psychological Services) on Instagram, Facebook, and Twitter!