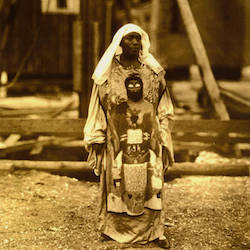 When: Thursday, March 4, 2021
12:30 PM - 2:00 PM Central
Where: Online
Audience: Faculty/Staff - Post Docs/Docs - Graduate Students
Contact: Religious Studies Department (847) 491-3611

Group: Religious Studies Department
Category: Academic
Description:
Presentation by Ahmad Greene-Hayes, a doctoral candidate in Religion and African American Studies at Princeton University.
Abstract: This lecture will examine the Black Atlantic religious cultures and sexual politics that emerged in New Orleans—a vibrant, American port city—amidst the migration of African Americans, West Indians, and Central Americans to the region in the early twentieth century. It looks at these changes in light of the different kinds of policing enforced by the white American Christian hegemonic state and also by different Black constituencies in New Orleans, and it considers the religious, sexual, and transnational resistance politics theologized by Black migrants, organizations, storefront churches, queer people, and sex workers. With these interventions in central view, the lecture reconsiders the place of "the South" and the role of Southerners who remained in the South during the era of the Great Migration, as the project's sources demonstrate the network of circum-Caribbean migration and South-to-South movement in and beyond New Orleans. Further, the lecture troubles the assumed Catholicity of New Orleans and the overemphasized trope of commercialized voodoo which has animated both the historiography and dominant narratives about the city. To do so, the lecture will ultimately engage the full spectrum of Black Atlantic religions in the city from "the Negro church" to individuals and institutions relegated to the racialized and sexualized category of the "Negro cult."
The event is co-sponsored by the Department of Religious Studies and the Department of African American Studies.