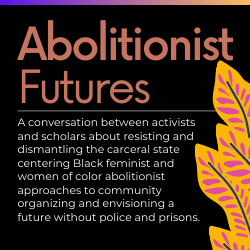 When: Thursday, May 6, 2021
5:00 PM - 6:30 PM Central
Where: Online
Audience: Faculty/Staff - Student - Public - Post Docs/Docs - Graduate Students
Contact: Council for Race and Ethnic Studies

Group: Council for Race and Ethnic Studies
Category: Academic
Description:
A conversation between activists and scholars about resisting and dismantling the carceral state centering Black feminist and women of color abolitionist approaches to community organizing and envisioning a future without police and prisons.
FEATURING: 
Dylan Rodriguez, President, American Studies Association; Professor, Department of Media and Cultural Studies, University of California at Riverside 
Dylan Rodríguez is an abolitionist teacher, writer, and scholarly activist. He was named to the inaugural class of Freedom Scholars in 2020 and is President of the American Studies Association (2020-2021). He has worked as a Professor at the University of California, Riverside since 2001, and recently served as the faculty-elected Chair of the UCR Division of the Academic Senate (2016-2020) and Chair of Ethnic Studies (2009-2016). Dylan's work attempts to address the normalized proliferation of logics of antiblackness and racial-colonial violence in everyday state, cultural, and social formations. He conceptualizes abolitionist and other forms of movement as part of the historical, collective genius of rebellion, survival, abolition, and radical futurity. He is the author of three books, most recently White Reconstruction: Domestic Warfare and the Logic of Racial Genocide (Fordham University Press, 2021), and is co-editor of Critical Ethnic Studies: A Reader (Duke University Press, 2016). Dylan can be reached by email at dylanrodriguez73@gmail.com as well as on Twitter (@dylanrodriguez), Instagram (dylanrodriguez73), and Facebook (www.facebook.com/dylanrodriguez73).
IN CONVERSATION WITH: 
Aislinn Pulley, Co-founder of BLM Chicago; Co-executive director of the Chicago Torture Justice Center
Born and raised in Chicago, Aislinn founded the Chicago chapter of Black Lives Matter. A longtime organizer who has worked on a variety of campaigns including the Reparations Now movement to pass the historic 2015 Reparations Ordinance for survivors of CPD torture, campaigns for justice for families who have lost loved ones to police violence, defense campaigns to free political prisoners, and many others. She was an organizer with We Charge Genocide, as well as a member of performance ensembles which include Visibility Now, which she founded for young women dedicated to ending sexual assault. 
MODERATED BY: 
Patricia Nguyen, Assistant Professor in Asian American Studies & CRES, Northwestern University
Artist, scholar, and educator. Dr. Nguyen is Assistant Professor in Asian American Studies and Council for Race and Ethnic Studies at Northwestern University, where she also earned her Ph.D. in Performance Studies. Her research and performance work examines state violence, the prison industrial complex, critical refugee studies, political economy, forced migration, intergenerational trauma, torture, and nation building in the United States and Vietnam. Community based praxis and experimentation is a fundamental ethos of her work as an artist and scholar committed to abolition. She has published work in Women Studies Quarterly, Harvard Kennedy School's Asian American Policy Review, Women and Performance, and The Funambulist. In recent news, Dr. Nguyen is an award-winning memorial designer for the Chicago Torture Justice Memorial Project, the first monument in the United States to honor survivors of police violence.