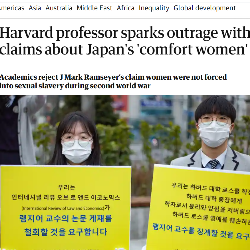 When: Friday, April 16, 2021
12:00 PM - 1:00 PM Central
Where: Online
Audience: Faculty/Staff - Student - Public - Post Docs/Docs - Graduate Students
Cost: Free
Contact: Cindy Pingry

Group: WCCIAS
Category: Academic, Lectures & Meetings, Global & Civic Engagement
Description:
The Global Lunchbox is a weekly conversation convened by the Weinberg College Center for International and Area Studies that features current research and work-in-progress by Northwestern scholars in the social sciences and humanities working on a range of global issues.
Recently, an academic article on "comfort women" by the Harvard Law School professor Mark Ramseyer caused a huge controversy and inspired a wave of condemnation. Contrary to decades of historical research, Ramseyer claimed that the Korean women who were conscripted, trafficked, and held captive at brothels serving the Japanese military during the Pacific War were in fact well-compensated sex workers subject to standard contractual arrangements.
Amy Stanley of Northwestern, David Ambaras of North Carolina State University, and Hannah Shepherd of the University of Cambridge, together with two other scholars, formed a transnational network to analyze and deconstruct Ramseyer's work, and ultimately argued for the retraction of the article. In this session, Professors Stanley, Ambaras, and Shepherd will discuss both the issues at stake in the controversy and their own scholarly process: how they formed the network, how they worked under extreme time pressure, and how they reached out to concerned scholars from other disciplines. Hopefully they will be able to provide an update on what has happened since they issued the call for retraction. 
Register for this event:
http://bit.ly/confronting-denialism