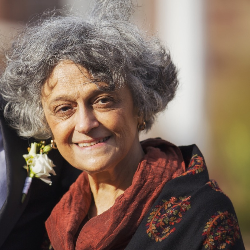 When: Thursday, April 15, 2021
10:00 AM - 11:30 AM CT
Where: Online
Audience: Faculty/Staff - Student - Public - Post Docs/Docs - Graduate Students
Contact: Cindy Pingry

Group: Middle East and North African Studies
Category: Lectures & Meetings
Description:
Please join the Colloquium for Global Iran Studies for an event in which the critically acclaimed novelist and writer Bahiyyih Nakhjavani will be reading from her latest work Us&Them and will explore the satire of survival in the Iranian diaspora. A moderated Q&A by Emrah Yildiz will follow the reading. 
Bahiyyih Nakhjavani was born in Iran, raised in Uganda, and educated in the UK and the United States. She has taught literature and creative writing in a variety of countries and cultures, is the author of non-fiction as well as novels, and has collaborated on adaptations in English of modern Persian poetry over the years. Her latest work Us&Them (2017) is a satire about the Iranian diaspora scattered all over the world. She currently lives in eastern France. 
Emrah Yıldız is a cultural anthropologist and Crown Junior Chair in Middle East Studies at Northwestern University. He studies religious, economic and political mobilities—of goods, people and ideas—across Iran, Turkey and Syria. Co-editor of the collection "Resistance Everywhere:" The Gezi Protests and Dissident Visions of Turkey (2014), he is a founding steering committee member of the Colloquium for Global Iran Studies. 
Registration is required for this event.