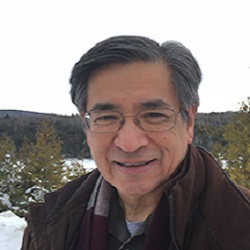 When: Monday, April 19, 2021
3:00 PM - 4:30 PM Central
Audience: Faculty/Staff - Student - Public - Post Docs/Docs - Graduate Students
Contact: Nancy Hickey (847) 467-1507

Group: Anthropology Department
Co-Sponsor: Anthropology Colloquia and Events

Category: Lectures & Meetings
Description:
Picturing Language Life: an EthnoGraphic AlterNative
The pandemic has upended everyone's lives.  This current COVID crisis is less a reset moment and more a reckoning of the slow violence of colonialism.  Despite this upheaval, anthropologists and Indigenous communities are well-positioned to lead the transition in a post-COVID world.
It's been 518 years since Amerigo Vespucci wrote his Mundus Novus letter (1503) inscribing the lands of the Indigenous peoples of the western hemisphere as the "New World."  This pernicious shibboleth has been recycled over the centuries to reinforce ideologies of discovery, conquest, and erasure of Indigenous peoples and their ancestral worlds.  Today, over 500 years of colonial/settler erasures are culminating in the self-inflicted slow violence of new world disorders such as global warming, rapacious capitalism, ongoing colonialism, and misguided globalization.  The pandemic has revealed these disorders contribute to willful unwitting erasures of lives and worlds for the world's population
Anthropologists and Indigenous peoples have seen this before and developed collective strategies for remediating the centuries of cartographies of erasure.  New World ideologies alienated Indigenous peoples from their ancestral worlds. Yet, for over a century, anthropologists worked together with Indigenous peoples to remediate those cartographies of erasure.  Today, I share with you my strategy of ideational cartographies of remembering ancestral voices through an EthnoGraphic AlterNatives.