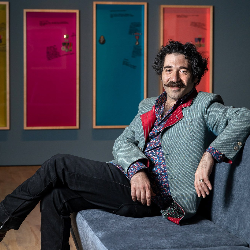 When: Friday, May 14, 2021
12:00 PM - 1:00 PM Central
Audience: Faculty/Staff - Student - Public - Post Docs/Docs - Graduate Students
Contact: Cindy Pingry

Group: WCCIAS
Category: Global & Civic Engagement, Academic, Lectures & Meetings, Multicultural & Diversity
Description:
The Global Lunchbox is a weekly conversation convened by the Weinberg College Center for International and Area Studies that features current research and work-in-progress by Northwestern scholars in the social sciences and humanities working on a range of global issues. Our guest this week will be Michael Rakowitz, Alice Welsh Skilling Professor of Art and Director of Graduate Studies for the Department of Art, Theory, Practice at Northwestern.
Based between Chicago and New York City, Rakowitz is an Iraqi-American conceptual artist who operates within art spaces and beyond them. With his series paraSITE, Rakowitz built customized, inflatable shelters for the homeless using a mere budget of $5.00 for plastic bags and waterproof tape for each project, and the exterior vents of buildings for heat. In Return, produced by Creative Time in 2004, Rakowitz reopened his grandfather's import and export business, Davison's & Co., which first operated in Baghdad and then relocated to New York when his family was exiled in 1946. Rakowitz's resurrected family business offered free shipping to Iraq three months after the U.S. declared stifling trade restrictions on the country.
Spoils of 2011, another Rakowitz and Creative Time collaboration, took a more provocative and personal approach to American-Iraqi relations. Housed at Park Avenue Autumn restaurant, the "culinary/art experience" provided patrons with rich traditional Iraqi dishes served on rare pieces of fine China from Saddam Hussein's personal collection. More surprising than the sensory tensions experienced by each diner, notably the contrast between the "sweetness of the Iraqi date syrup, and the…bitter provenance of the dishware," was the dramatic conclusion of the project. A cease-and-desist letter from the State Department calling for the "surrender" of the plates abruptly ended Spoils, and resulted in their return to Iraqi territory. It was, according to Rakowitz, a "kind of perfect" ending to the project.
He is the recipient of the 2020 Nasher Prize; the 2018 Herb Alpert Award in the Arts; a 2012 Tiffany Foundation Award; a 2008 Creative Capital Grant; a Sharjah Biennial Jury Award; a 2006 New York Foundation for the Arts Fellowship Grant in Architecture and Environmental Structures; the 2003 Dena Foundation Award, and the 2002 Design 21 Grand Prix from UNESCO. He was awarded the Fourth Plinth commission in London's Trafalgar Square. A survey of Rakowitz's work traveled from Whitechapel Gallery in London, to Castello di Rivoli Museo d'Arte Contemporanea in Torino, and is currently on view at The Jameel Arts Centre in Dubai.
More information about Michael Rakowitz and his work in his website:
michaelrakowitz.com
Register for this event:
http://bit.ly/michael-rakowitz