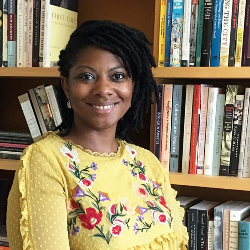 When: Tuesday, April 27, 2021
12:30 PM - 1:30 PM Central
Where: Online
Audience: Faculty/Staff - Student - Public - Post Docs/Docs - Graduate Students
Contact: Cindy Pingry (847) 467-1933

Group: Andean Cultures and Histories Working Group
Co-Sponsor: Latin American and Caribbean Studies

Category: Academic, Lectures & Meetings
Description:
Please join the Andean Cultures and Histories Working Group, the Latin American and Caribbean Studies Program and the African American Studies Department, as a cross-over event in the Afro-Latin America: Representation, Politics, History series for an interview with Tamara J. Walker, Associate Professor of History (University of Toronto).  
Professor Walker's scholarly interests encompass three interrelated thematic areas: the history of slavery and freedom in Latin America; the process of racial formation in the region; and the ways in which gender shaped the experience of enslavement and racialization. Her work is also inspired by the methodological concern of recovering the subjectivities of enslaved and free people of African descent who rarely had direct access to writing and whose voices were heavily mediated when they did appear on record. 
Walker's research has received support from the Ford Foundation, the Woodrow Wilson Foundation, the American Association of University Women and the John Carter Brown Library, and has appeared in such publications as Slavery & Abolition: A Journal of Slave and Post-Slave Studies, Safundi: The Journal of South African and American Studies, Gender & History, The Journal of Family History, and Souls. Her first book, Exquisite Slaves: Race, Clothing and Status in Colonial Lima, was published by Cambridge University Press and received the 2018 Harriet Tubman Prize. She is currently at work on two new book projects, one on the history of slavery and piracy in Latin America, and the other on black subjects in Latin-American visual culture, which will be published by the University of Texas Press.
Please register for this event.