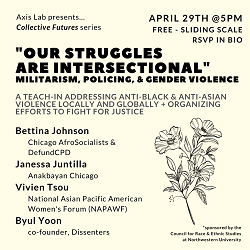 When: Thursday, April 29, 2021
5:00 PM - 6:30 PM Central
Where: Online
Webcast Link
Audience: Faculty/Staff - Student - Public - Post Docs/Docs - Graduate Students
Contact: Council for Race and Ethnic Studies

Group: Council for Race and Ethnic Studies
Category: Academic
Description:
A teach-in addressing anti-Black and anti-Asian violence locally and globally and community organizing efforts to fight for justice. Featuring Chicago-based femme/women of color organizers and activists. 
Bettina Johnson, Chicago AfroSocialists & DefundCPD 
Janessa Juntilla, Anakbayan Chicago  
Vivien Tsou, National Asian Pacific American Women's Forum (NAPAWF)  
Byul Yoon, co-founder of Dissenters  
Registration: https://northwestern.zoom.us/meeting/register/tJwsd-CsrTkoE9NMR7MrJzbOKJWSzbUhBirV
BIOS 
Bettina was born in Chicago and raised on the northside by her immigrant mother and family. Bettina was politicized by her experiences of adultism, racism and being nearly pushed out of school as a young person—she started organizing as a student. For the last six years Bettina has worked on campaigns or in organizations whose ends or values align explicitly with PIC Abolition: Liberation Library (2015-present), The People's Response Team (defunct), and Assatas Daughters (until 2018). 
Janessa is a kasama, educator, and nap-lover based in Chicago. She's part of Anakbayan Chicago, a Filipino youth and student organization dedicated to fighting for the liberation of the Philippines. As a Filipino living in the diaspora, in the belly of the beast, she believes that international solidarity and love for the people will lead us closer to our collective liberation. 
Byul Yoon is a co-founder of Dissenters, a new anti-militarism youth organization with over a dozen chapters emerging across the country. Byul has also served as coordinator for the Korean Education and Exposure Program, which works to build solidarity between the Korean diaspora and movements in the north and south of Korea fighting for self-determination and the end of US imperialism. Byul was nourished as a young organizer with United Students Against Sweatshops, Ohio Student Association, and Fireweed Collective. Today she's enjoying deepening her commitment to meditation, reading, buddhism, and interbeing. 
Vivien Tsou, National Field Director, National Asian Pacific American Women's Forum (NAPAWF).  
For more information: www.axislab.org and www.instagram.com/axislabchicago