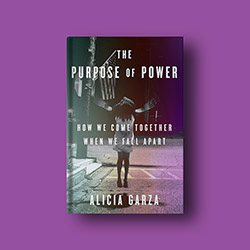 When: Tuesday, May 25, 2021
5:00 PM - 6:30 PM Central
Where: Online
Audience: Faculty/Staff - Student - Public - Post Docs/Docs - Graduate Students
Contact: Eliot Colin (847) 491-5871

Group: Gender & Sexuality Studies Program
Category: Lectures & Meetings
Description:
Almost a year ago when many of us proclaimed our solidarity with Black Lives Matter protests, we pledged to renew these commitments in our inquiry, pedagogy, and everyday practices.  Even as the tragedies of the year has etched deep grooves in our memories, it is also time to ask, was 2020 a portal?  Many journalists have called 2020 the year of the Black voter.  Indeed, the Philadelphians cha-cha sliding while waiting to vote or the drill teams escorting voters to the polls celebrated the joys of organizing, of determination, and of protest.  As Alicia Garza reminds us in her new book published in 2020, The Purpose of Power, this vision for the future did not appear overnight.  But while long in the making, the Movement for Black Lives also upended older models of mobilization and who matters.  With excerpts from Garza's book as points of departure, please join us in an open discussion of the significance of this moment in our lives as students, workers, activists, teachers, and scholars.  In this conversation, we hope to launch future dialogues and public programs.  
We propose focusing on the following readings:
1. Alicia Garza, The Purpose of Power: How We Come Together When We Fall Apart--Introduction; Chapter 8 "The Meaning of Movement"; Chapter 12 "The Power of Identity Politics" & Chapter 13 "Imposter Syndrome and the Patriarchy" [43pp total]
2. We're adding Patrisse Khan-Cullors, When They Call you a Terrorist: A Black Lives Matter Memoir--Introduction and Chapter 13 "A Call, A Response" [14 pp total]
These chapters focus on BLM's roots in Black feminist & queer frameworks--applying, for example, the Combahee River Collective on "identity politics" & Crenshaw on "intersectionality" to the work of movement building in the 21st century. Read together they offer a good account of the formation of BLM from the perspective of two of the four founders. 
Note: It is not mandatory to read these before joining the conversation, but both are quick, enjoyable reads! To get our conversation started, send us a question, discussion topic, and/or a comment before the discussion to gender@northwestern.edu
---------------
Additional recommended readings if you are interested:
1. Alicia Garza, The Purpose of Power: How We Come Together When We Fall Apart--Chapter 14 "No Base, No Movement" (7pp ), Chapter 15 "Political Education and Common Sense" (13pp) 
In these chapters Garza reflects at greater length on what is actually required to build a movement that can claim power. 
2. Barbara Ransby, Making All Black Lives Matter: Reimaging Freedom in the 21st Century--Introduction (9pp) & Chapter 1 "Roots and Recalibrated Expectations: Prologue to a Movement" (18pp)
For anyone interested in a deeper background, Ransby's Introduction offers a brief history of the formation of BLM that frames "Black feminist politics" as the "ideological bedrock of BLM." In Chapter 1, she offers a pre-history to BLM--including the radical queer politics of Cathy Cohen et al in the face of the AIDS crisis, & subsequent projects including the Black Radical Congress, INCITE! and Critical Resistance  (1997-2000) that center "Black feminist intersectional gender politics" and ends with a bio. of each of the founders of BLM, focused on the decades of organizing that Garza, Cullors, Carruthers & Tometi each engaged in before joining forces to organize BLM.