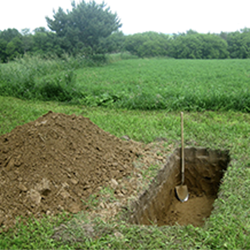 When: Saturday, May 15, 2021
9:00 AM - 1:00 PM Central
Where: Yard behind 618 Colfax Street, Evanston
Audience: Faculty/Staff - Student - Public - Post Docs/Docs - Graduate Students
Cost: Free! Public welcome to attend and observe.
Contact: Jill Mannor (847) 467-3970

Group: Alice Kaplan Institute for the Humanities
Co-Sponsor: Art Theory & Practice

Category: Fine Arts
Description:
This will be a live, in-person event.
• Public welcome to attend and observe!
• To participate as a digger, RSVP to Jill Mannor at jill.mannor@northwestern.edu
Led by Kaplan Humanities Institute Artist in Residence Mel Keiser and certified grave diggers Kris Bloedow and Bill Jessen, participants will learn the increasingly forgotten but age-old skill of manually digging a grave. We will reflect on the ability of this labor to simultaneously inter the deceased, mirror the process of grieving, and direct emotion into social action.
Participants must wear masks and adhere to campus visitor COVID safety protocols.
Dig site
We will dig in the yard behind 618 Colfax, Evanston (North campus), which is the site of an unoccupied residential hall (walk down the alley between the tennis courts and 618 Colfax to access the yard). There is street parking and a parking lot nearby at Elder Hall (see this map: https://maps.northwestern.edu/facility/258).
Click here to read a Milwaukee Journal Sentinel article about grave digger Kris Bloedow and his helper Bob Kapke.
About Mel Keiser
Mel Keiser is the spring 2021 Artist in Residence of the Kaplan Humanities Institute.
Entangling the borders of reality and fiction, Keiser's multidisciplinary work explores the social and psychological impact of treating herself not as one single person but a series of distinct self-versions. Claiming these self-versions born and died—in 2003, twice in 2007, 2011, 2014, 2018, and 2020—Keiser is currently making a body for each of her selves and burying them in a cemetery.
This event is co-presented by the Department of Art History, the Department of Art Theory and Practice, and the Alice Kaplan Institute for the Humanities.