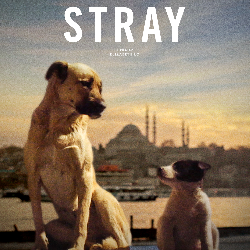 When: Monday, May 17, 2021
12:30 PM - 2:00 PM CT
Where: Online
Webcast Link
Audience: Faculty/Staff - Student - Post Docs/Docs - Graduate Students
Cost: Free
Contact: Danny Postel

Group: Middle East and North African Studies
Co-Sponsor: Keyman Modern Turkish Studies (Northwestern Buffett)

Category: Lectures & Meetings, Academic, Multicultural & Diversity, Global & Civic Engagement
Description:
Please join us for this conversation on the place of street animals in Turkish history and culture, with special emphasis on Istanbul, between Oya Topçuoğlu, Assistant Professor of Instruction in Turkish in the MENA Languages Program at Northwestern, and Kimberly Hart, Associate Professor of Anthropology at Buffalo State University.
This conversation is organized as part of Professor Topçuoğlu's new course "Istanbul: Gateway Between the East and West" and accompanies a virtual screening of the documentary film Stray. The film will be available for viewing from Monday May 10 until Monday May 24. Register here to receive the link for the screening:
http://bit.ly/street-animals-turkey
Once you begin, you'll have 72 hours to finish watching.
About the film
STRAY explores what it means to live as a being without status or security, following three strays - Zeytin, Nazar and Kartal - as they embark on inconspicuous journeys through Turkish society that allow us an unvarnished portrait of human life — and their own canine culture. Zeytin, fiercely independent, embarks on adventures through the city at night; Nazar, nurturing and protective, easily befriends the humans around her; while Kartal, a shy puppy living on the outskirts of a construction site, finds companions in the security guards who care for her. The disparate lives of Zeytin, Nazar and Kartal intersect when they each form intimate bonds with a group of young Syrians who share the streets with them. Whether they lead us into bustling streets or decrepit ruins, the gaze of these strays acts as a window into the overlooked corners of society: women in loveless marriages, protesters without arms, refugees without sanctuary. STRAY is a critical observation of human civilization through the unfamiliar gaze of dogs and a sensory voyage into new ways of seeing.
Watch the trailer:
https://youtu.be/uC38BqP2_fI
co-sponsored by the Keyman Modern Turkish Studies Program