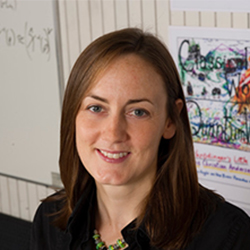 When: Wednesday, September 8, 2021
2:00 PM - 3:00 PM Central
Where: Online
Audience: Faculty/Staff - Student - Post Docs/Docs - Graduate Students
Contact: Sarah Alber 312.503.7958

Group: Department of Cell and Developmental Biology
Category: Lectures & Meetings
Description:
CDB EXPERTS-IN-THE-FIELD SEMINAR PRESENTATION: 
"Quantitative comparisons between models and data to provide new insights in cell and developmental biology"
Ruth Baker, PhD
Professor of Applied Mathematics, University of Oxford
Oxford, UK
Wednesday, September 8, 2021
2:00-3:00 PM. *SPECIAL TIME*
Zoom Link: https://northwestern.zoom.us/j/91244254659
Meeting ID: 912 4425 4659
Password: Available upon request from cdb@northwestern.edu
Dial In Number: +1 312 626 6799 US
+44 330 088 5830 UK
Abstract: 
Simple mathematical models have had remarkable successes in biology, framing how we understand a host of mechanisms and processes. However, with the advent of a host of new experimental technologies, the last ten years has seen an explosion in the amount and types of quantitative data now being generated. This sets a new challenge for the field – to develop, calibrate and analyse new models to interpret these data. In this talk, Dr. Baker will use examples relating to intracellular transport and cell motility to showcase how quantitative comparisons between models and data can help tease apart subtle details of biological mechanisms.
Relevant Publications: 
T. P. Prescott, K. Zhu, M. Zhao and R. E. Baker (2021). Quantifying the impact of electric fields on single-cell motility. Biophys. J. S0006-3495(21):00536-1.
J. U. Harrison, R. M. Parton, I. Davis and R. E. Baker (2019). Testing models of mRNA localization reveals robustness regulated by reducing transport between cells. Biophys. J. 117(11):2154-2165. 
Host: Dr. Yogesh Goyal
Incoming Assistant Professor, Spring 2022
Department of Cell and Developmental Biology    
For more information please contact cdb@northwestern.edu
Zoom link sent via listserv. To subcribe to the CDB Seminar Series listserve please visit https://www.feinberg.northwestern.edu/sites/cdb/about/contact.html#listserv