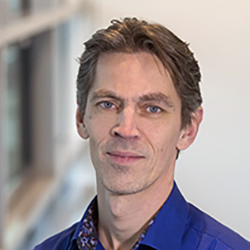 When: Wednesday, October 13, 2021
12:00 PM - 1:00 PM Central
Where: Online
Audience: Faculty/Staff - Student - Post Docs/Docs - Graduate Students
Contact: Sarah Alber 312.503.7958

Group: Department of Cell and Developmental Biology
Category: Lectures & Meetings
Description:
CDB EXPERTS-IN-THE-FIELD SEMINAR PRESENTATION:
"Disjointed genomes: On chromosome segregation fidelity in health and disease"
Geert J.P.L. Kops, PhD
Scientific Director, Oncode Institute, Senior Group Leader, Hubrecht Institute for Developmental Biology and Stem Cell Reasearch, and Professor of Molecular Tumor Cell Biology, UMC Utrecht,
Utrecht, Netherlands
Wednesday, October 13, 2021
12:00-1:00 PM
Zoom Link: https://northwestern.zoom.us/j/95778706136
Meeting ID: 957 7870 6136
Password: Available upon request from cdb@northwestern.edu
Dial in Number: +1 312 626 6799 US
+31 707 006 526 Netherlands

Relevant Publications: 
Bolhaqueiro ACF, Ponsioen B, Bakker B, Klaasen SJ, Kucukkose E, van Jaarsveld RH, Vivié; J, Verlaan-Klink I, Hami N, Spierings DCJ, Ssaski N, Dutta D, Boj SF, Vries RJG, Lansdorp PM, van de Wetering M, van Oudenaarden A, Clevers H, Kranenburg O, Foijer F, Snippert HGJ, Kops GPJL. Ongoing chromosomal instability and karyotype evolution in human colorectal cancer organoids. Nat Genet. 51 (2019), 824-834. Highlighted in Nature News & Views 570 (2019), 166-167.
Sacristan C, Ahmad MUD, Keller J, Fermie J, Groenewold V, Tromer E, Fish A, Melero R, Carazo JM, Klumperman J, Musacchio A, Perrakis A, Kops GJPL. Dynamic kinetochore size regulation promotes microtubule capture and chromosome biorientation in mitosis. Nat Cell Biol 20 (2018), 800-810. Highlighted in Curr Biol 28 (2018), R1250-R1252.
Yost S, de Wolf B, Hanks S, Zachariou A, Marcozzi C, Clarke M, de Voer RM, Etemad B, Uijttewaal E, Ramsay E, Wylie H, Elliott A, Picton S, Smith A, Smithson S, Seal S, Ruark E, Houge G, Pines J, Kops GJPL*, Rahman N*. Biallelic TRIP13 mutations predispose to Wilms tumor and chromosome missegregation. Nat Genet. 49 (2017), 1148-1151.
Hiruma Y, Sacristan C, Pachis ST, Adamopoulos A, Kuijt T, Ubbink M, von Castelmur E, Perrakis A, Kops GJPL. Competition between MPS1 and microtubules at kinetochores regulates spindle checkpoint signaling. Science 348 (2015), 1264-1267.
Host: Dr. Dileep Varma, Assistant Professor
Department of Cell and Developmental Biology    
For more information please contact cdb@northwestern.edu
Zoom link sent via listserv. To subcribe to the CDB Seminar Series listserve please visit https://www.feinberg.northwestern.edu/sites/cdb/about/contact.html#listserv