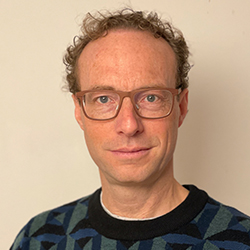 When: Wednesday, November 10, 2021
12:00 PM - 1:00 PM Central
Where: Online
Audience: Faculty/Staff - Student - Post Docs/Docs - Graduate Students
Contact: Sarah Alber 312.503.7958

Group: Department of Cell and Developmental Biology
Category: Lectures & Meetings
Description:
CDB EXPERTS-IN-THE-FIELD SEMINAR PRESENTATION:
"Chromosome dynamics during the cell cycle"
Daniel Gerlich, PhD
Senior Research Group Leader
Institute of Molecular Biotechnology of the Austrian Academy of Sciences (IMBA),
Vienna, Austria
Wednesday, November 10, 2021
12:00-1:00 PM
Zoom Link: https://northwestern.zoom.us/j/94371859347
Meeting ID: 943 7185 9347
Password: Available upon request from cdb@northwestern.edu
Dial in Number: +1 312 626 6799 US
+43 72 011 5988 Austria
Relevant Publications: 
S. Cuylen-Haering, M. Petrovic, A. Hernandez-Armendariz, M.W. G. Schneider, M. Samwer, C. Blaukopf, L.J. Holt, D.W. Gerlich. Chromosome clustering by Ki-67 excludes cytoplasm during nuclear assembly. Nature (2020). 587(7833): 285-290. doi: 10.1038/s41586-020-2672-3.
M. Mitter, C. Gasser, Z. Takacs, C. C. H. Langer, W. Tang, G. Jessberger, C. T. Beales, E. Neuner, S. L. Ameres, J.-M. Peters, A. Goloborodko, R. Micura, Daniel W. Gerlich. Conformation of sister chromatids in the replicated human genome. Nature (2020). 586(7827): 139-144. doi: 10.1038/s41586-020-2744-4. 
P. Batty, D.W. Gerlich. Mitotic Chromosome Mechanics: How Cells Segregate Their Genome. Trends Cell Biol (2019). 29(9): 717-726. doi: 10.1016/j.tcb.2019.05.007.
Host: Dr. Dileep Varma, Assistant Professor
Department of Cell and Developmental Biology    
For more information please contact cdb@northwestern.edu
Zoom link sent via listserv. To subcribe to the CDB Seminar Series listserve please visit https://www.feinberg.northwestern.edu/sites/cdb/about/contact.html#listserv