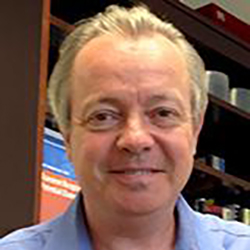 When: Wednesday, February 9, 2022
12:00 PM - 1:00 PM Central
Where: Simpson Querrey Biomedical Research Center, Simpson Querrey Auditorium, SQBRC 1-230, 303 E. Superior Street, Chicago, IL 60611 map it
Audience: Faculty/Staff - Student - Post Docs/Docs - Graduate Students
Contact: Sarah Alber (312) 503-7958

Group: Department of Cell and Developmental Biology
Category: Lectures & Meetings
Description:
CDB EXPERTS-IN-THE-FIELD SEMINAR PRESENTATION:
SPECIAL SEMINAR IN HONOR OF DR. JIM BARTLES
"A developmental dichotomy: How inner vs. outer hair cells are differentially formed and innervated"
Jaime García-Añoveros, Ph.D.
Professor of Anesthesiology, Neurology, and Neuroscience
Northwestern University Feinberg School of Medicine


Wednesday, February 9, 2022
12:00-1:00 PM
HYBRID SEMINAR
Location: Simpson-Querrey Auditorium, SQBRC 1-230
Zoom Link: https://northwestern.zoom.us/j/99285489255
Meeting ID: 992 8548 9255
Password: Available upon request to cdb@northwestern.edu
Dial-in: +1 312 626 6799
Relevant Publications: 
Wiwatpanit, T., Lorenzen, S. M, Cantú, J. A., Foo, C. Z., Hogan, A. K., Márquez, F., Clancy, J. C., Schipma, M. J., Cheatham, M. A., Duggan, A., and García-Añoveros, J. (2018) Trans-differentiation of outer hair cells into inner hair cells in the absence of INSM1. Nature 563(7733): 691-695. PMCID: PMC6279423.
Webber, J.L., Clancy, J.C., Zhou, Y., Yraola, N., Homma, K. and García-Añoveros, J. (2021). Axodendritic vs axosomatic cochlear efferent termination is determined by afferent type in a hierarchical logic of circuit formation. Science Advances, Jan; 7(4) eabd8637. PMCID: PMC7817091.
García-Añoveros, J., Clancy, J. C., Foo, C. Z., García Gómez, I., Zhou, Y., Homma, K., Cheatham, M. and Duggan, A.  (2022). Tbx2 is a master regulator of inner vs outer hair cell differentiation and maintenance. Nature, In Press.
Host: Dr. Luisa Iruela-Arispe
Professor and Chair
Department of Cell and Developmental Biology    


For more information please contact cdb@northwestern.edu
Zoom link sent via listserv. To subcribe to the CDB Seminar Series listserve please visit https://www.feinberg.northwestern.edu/sites/cdb/about/contact.html#listserv