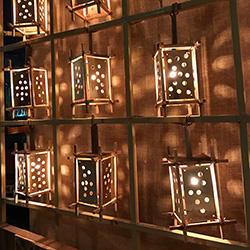 When: Wednesday, October 6, 2021
5:00 PM - 6:30 PM Central
Where: Block Museum of Art, Mary and Leigh, 40 Arts Circle Drive, Evanston, IL 60208 map it
Audience: Faculty/Staff - Student - Public - Post Docs/Docs - Graduate Students
Contact: Department of Art History 847.491.3230

Group: Department of Art History
Category: Academic
Description:
Mapping the Ephemeral: Decolonizing Durational Imagination
Northwestern University Department of Art History presents the Warnock Lecture Series
This lecture is an invitation to reimagine the norms of durational imagination in architecture and urbanism. In our comfort with the long arc of architecture and urban history, we have ignored the potential of small duration as a tool for decolonizing history. Based on a study of seasonally built temporary structures, this presentation demonstrates the connection between small duration and small spaces as a vital element to reimagine community life.
Swati Chattopadhyay is an architect and architectural historian specializing in modern architecture and urbanism, and the cultural landscape of the British empire. Her awards include a Guggenheim Fellowship, three fellowships from the American Institute of Indian Studies, a J. Paul Getty Fellowship, a National Science Foundation Grant, a Fellowship from the Swedish Collegium for Advanced Study, a Distinguished Visiting Fellowship from Queen Mary, University of London, a Birkbeck Institute for the Humanities Fellowship, University of London, and the Society of Architectural Historian's Founder's Award. She is a Founding Editor of PLATFORM, and has served as a director of the Subaltern-Popular Workshop, a University of California Multi-campus Research Group, and as the editor of the Journal of the Society of Architectural Historians (JSAH). She is the author of Representing Calcutta: Modernity, Nationalism, and the Colonial Uncanny (Routledge, 2005; paperback 2006), and Unlearning the City: Infrastructure in a New Optical Field (Minnesota, 2012). She has co-edited two books with Jeremy White: City Halls and Civic Materialism: Towards a Global History of Urban Public Space (Routledge, 2014) and Critical Approaches to Contemporary Architecture (Taylor and Francis, 2019). In 2018 she was named as a Fellow of the Society of Architectural Historians for a lifetime of significant contributions to the field.
More information to come.