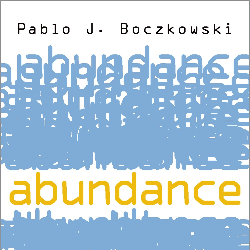 When: Tuesday, October 12, 2021
12:30 PM - 1:30 PM Central
Where: Online
Audience: Faculty/Staff - Post Docs/Docs - Graduate Students
Cost: Free
Contact: Danny Postel

Group: Latin American and Caribbean Studies
Category: Lectures & Meetings, Academic, Multicultural & Diversity, Global & Civic Engagement
Description:
Register for this event:
https://bit.ly/information-plenty
Please join us for the first meeting of the LACS Faculty Colloquium in the 2021-2022 academic year, a forum on LACS faculty affiliate Pablo Boczkowski's recently-published book Abundance: On the Experience of Living in a World of Information Plenty (Oxford University Press).
Joining Professor Boczkowski on the program will be:
Alejandra Uslenghi
Associate Professor of Spanish & Portuguese and Comparative Literary Studies at Northwestern
Claudio Benzecry
Associate Professor in the Department of Communication Studies at Northwestern
Ingrid Bachmann Cáceres
Facultad de Comunicaciones, Pontificia Universidad Católica de Chile
About the book
Information overload is something that humans have dealt with for millennia. During different historical eras, massive increases in what was available to know has motivated the creation of systems for sorting, indexing, and compiling information as well as concerns that the abundance of information might cause cultural anxiety or even drive people to madness. The digital age has renewed concerns about information overload and the detrimental effects it has on our ability to sort through the stream of online data, decide what is most important, or even to train our attention on it long enough to make sense of it.
In Abundance, Pablo J. Boczkowski builds upon what we know about the historical and contemporary scholarship to develop a novel framework on the experience of living in a society that has more information available to the public than ever before, focusing on the interpretations, emotions, and practices of dealing with this abundance in everyday life. Drawing on extensive fieldwork and survey research conducted in Argentina, Abundance examines the role of cultural and structural factors that mediate between the availability of information and the actual consequences for individuals, media, politics, and society. Providing the first book-length account of information abundance in the Global South, Boczkowski concludes that the experience of information abundance is tied to an overall unsettling of society, a reconstitution of how we understand and perform our relationships with others, and a twin depreciation of facts and appreciation of fictions.
Pablo J. Boczkowski (he / él) is Hamad Bin Khalifa Al-Thani Professor at Northwestern University. He is Founder and Director of the Center for Latinx Digital Media, and Faculty Director of the Master of Science in Leadership for Creative Enterprises program, both at Northwestern; Co-Founder and Co-Director of the Center for the Study of Media and Society in Argentina, a joint initiative between Northwestern and Universidad de San Andrés, in Buenos Aires; and Senior Fellow at the Weizenbaum Institute for the Networked Society in Germany. In 2020 he was named Fellow of the International Communication Association. He is the author or co-author of six books, co-editor of four volumes, and has written over fifty journal articles. His current book projects include Social Media Studies: Comparative Perspectives (with Mora Matassi, under contract with MIT Press) and The Patina of Distrust: Misinformation in a Context of Generalized Skepticism (with Eugenia Mitchelstein, María Celeste Wagner and Facundo Suenzo).
Register for this event:
https://bit.ly/information-plenty