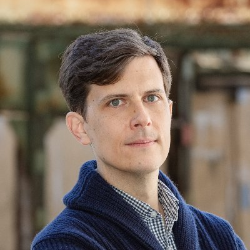 When: Friday, October 8, 2021
12:00 PM - 1:00 PM CT
Where: Online
Audience: Faculty/Staff - Student - Public - Post Docs/Docs - Graduate Students
Cost: FREE
Contact: Danny Postel

Group: WCCIAS
Category: Global & Civic Engagement, Academic, Lectures & Meetings
Description:
Register for this event:
https://bit.ly/kevin-mazur
Please join us for the Global Lunchbox, a weekly conversation convened by the Weinberg College Center for International and Area Studies that features conversations with scholars in the social sciences and humanities working on a range of global issues about their current research.
This week we'll hear from political scientist Kevin Mazur about his new book Revolution in Syria: Identity, Networks, and Repression (Cambridge University Press).
About the book
How does protest advancing diverse claims turn into violent conflict occurring primarily along ethnic lines? This book examines that question in the context of Syria, drawing insight from the evolution of conflict at the local level. Kevin Mazur shows that the challenge to the Syrian regime did not erupt neatly along ethnic boundaries, and that lines of access to state-controlled resources played a critical structuring role; the ethnicization of conflict resulted from failed incumbent efforts to shore up network ties and the violence that the Asad regime used to crush dissent by challengers excluded from those networks. Mazur uses variation in the political and demographic characteristics of locales to explain regime strategies, the roles played by local intermediaries, the choice between non-violent and violent resistance, and the salience of ethnicity. By drawing attention to cross-ethnic ties, the book suggests new strategies for understanding ostensibly ethnic conflicts beyond Syria.
"Kevin Mazur's Revolution in Syria is by far the most sophisticated and compelling work to date on the origins and the first phases of the Syrian conflict. It thoroughly follows through predominant hunches, while debunking others, about how and why an initially peaceful uprising calling for the end of a brutal authoritarian regime turned into a vicious sectarian civil war." —Reinoud Leenders, King's College London
"Revolution in Syria will surely generate debate and fruitful arguments among scholars of Syrian politics, but it will also be of value to ongoing conversations in the social sciences more generally—contributing to prevailing literatures on identity formation, network theory, civil war, ethnic conflict, and the vexed issue of sectarianism. Mazur's intellect, clear writing, and attention to processes of social attachment also lend the book a welcome vitality, recommending it to any scholar interested in employing multi-method research or navigating the tensions between quantitative and qualitative approaches to knowledge production." —Lisa Wedeen, University of Chicago
"Revolution in Syria shows beyond the shadow of a doubt that the Syrian conflict was not 'ethnic' in its origin but rather took on this appearance over time. Mazur's painstaking description of the evolving interactions between challengers and the incumbent regime in Syria contributes richly to studies of 'ethnic violence' by tracing exactly how ethnicization occurred. The author's deep attention to the varied local dynamics of contestation across the country and his profound knowledge of the case make the book a must-read for anyone interested in Syria, the Middle East, and ethnic politics more generally." —Melani Cammett, Harvard University
About the speaker
Kevin Mazur is a Future of Conflict Fellow in the Empirical Studies of Conflict Project at Princeton University and a Visiting Researcher in the the Department of Political Science at Northwestern. Previously he was a Postdoctoral Prize Research Fellow at Nuffield College, University of Oxford. His research focuses on the role of identities and state-society connections in revolutions and civil wars, primarily in the Arab world.
Register for this event:
https://bit.ly/kevin-mazur