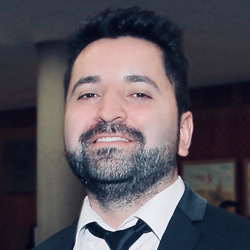 When: Wednesday, October 20, 2021
12:00 PM - 1:00 PM Central
Where: Online
Webcast Link
Audience: Faculty/Staff - Student - Public - Post Docs/Docs - Graduate Students
Cost: Free
Contact: Meghan Stagl 847.491.2527

Group: Northwestern Institute on Complex Systems (NICO)
Category: Academic, Lectures & Meetings
Description:
Speaker:
Cristian Candia-Castro Vallejos, Assitant Professor and Director of Master in Data Science at the Data Science Institute, Universidad del Desarrollo, Chile
Title:
Digital footprints for collective intelligence
Abstract:
In general words, Collective Intelligence (CI) is defined as the shared or group intelligence that emerges from the interaction between people and the ways of processing information. For CI to exist, groups of people must learn collectively and store what is learned in their collective memories; thus, the need to solve new problems allows collective intelligence to manifest. CI arises mainly in collaboration, collective efforts, competition between people, and decision-making by consensus (Pierre Levy, 1999). In this presentation, using an approach placed at the intersection between theories of human behavior and data science, we will take a tour of our ongoing research in three different aspects of collective intelligence: Tools that facilitate collective intelligence; Types of collective intelligence, such as cooperation and coordination; and one of the means that allow collective intelligence, collective memory. 
Speaker Bio:
Cristian Candia is an Assistant Professor and Director of the Master Degree in Data Science at the Data Science Institute, School of Engineering, Universidad del Desarrollo, Chile. Besides, Dr. Candia is an external faculty at the Northwestern Institute on Complex Systems, Northwestern University. His work focuses on data science applied to socio-economic systems, and it has been published in journals such as Nature Human Behaviour, American Psychologist, and EPJ Data Science. Previously, Cristian held a Postdoctoral position at the Kellogg School of Management at Northwestern University. He conducted his Ph.D. research at the MIT Media Lab (Massachusetts Institute of Technology), the Center for Complex Networks Research (Northeastern and Harvard University), and the Center for Social Complexity (Universidad del Desarrollo).
Webinar:
https://northwestern.zoom.us/j/99954269710
Passcode: nico
About the Speaker Series:
Wednesdays@NICO is a vibrant weekly seminar series focusing broadly on the topics of complex systems and data science. It brings together attendees ranging from graduate students to senior faculty who span all of the schools across Northwestern, from applied math to sociology to biology and every discipline in-between. Please visit: https://bit.ly/WedatNICO for information on future speakers.