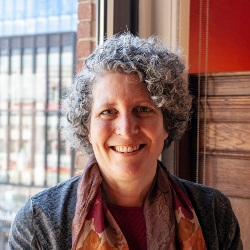 When: Friday, November 19, 2021
12:00 PM - 1:00 PM Central
Where: Online
Audience: Faculty/Staff - Student - Public - Post Docs/Docs - Graduate Students
Cost: FREE
Contact: Cindy Pingry

Group: WCCIAS
Category: Global & Civic Engagement, Academic, Lectures & Meetings
Description:
Register for this event:
https://bit.ly/lunchbox-karen-alter
Please join us for the Global Lunchbox, a weekly conversation convened by the Weinberg College Center for International and Area Studies at Northwestern University that features conversations with scholars about their current research on a range of global issues.
Our guest this week will be Karen J. Alter, the Norman Dwight Harris Professor of International Relations and Professor of Political Science and Law and co-director of the Research Group on Global Capitalism and Law at Northwestern University, and a permanent visiting professor at the iCourts Center for Excellence, University of Copenhagen Faculty of Law.
She'll discuss her recent International Journal of Constitutional Law article "From colonial to multilateral international law: A global capitalism and law investigation," which integrates international law, international relations, and global history scholarship to understand two global trends that are in tension with each other: (1) the shift from European colonial dominance to a law-based multilateralism, which enabled a more equal and inclusive international law, and (2) global capitalism which, across time, has been a political and economic force that, left to its own devices, promotes exclusion and inequality. Alter builds an encompassing conception of global economic law to show the interplay of colonial law, private law, domestic law, and international law in enabling and constraining global capitalism across time. The investigation looks backwards so as to think forward. The larger goal of the endeavor is to imagine how an Asian law-based capitalism might continue past trends and recreate continuities despite a professed desire to be different. Just as capitalism once locked in colonial features despite the shift to multilateral international law, multilateralism and capitalism may be forces that sustain the very features of the Western Liberal International Order that China seeks to move beyond.
Alter's research focuses on the construction of global economic rules regulating trade and money, and on the determinants of politically sustainable capitalism. Past and ongoing research concerns the politics of international regime complexity and global and regional judicialization of international relations. Alter is author of the award-winning book The New Terrain of International Law: Courts, Politics, Rights (2014); Transplanting International Courts: The Law and Politics of the Andean Tribunal of Justice (2017, with Laurence Helfer); The European Court's Political Power (2009), and Establishing the Supremacy of European Law (2001). She is also co-editor of the Oxford Handbook on International Adjudication (2014) and International Court Authority (2018). Alter is a former Guggenheim Fellow, winner of the Berlin Prize from the American Academy in Berlin, and the winner of the American Society of International Law's Certificate of Merit for a Preeminent Contribution to Creative Scholarship.
Register for this event:
https://bit.ly/lunchbox-karen-alter