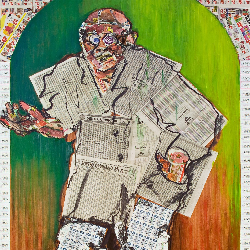 When: Friday, December 3, 2021
12:00 PM - 1:00 PM Central
Where: Online
Audience: Faculty/Staff - Student - Public - Post Docs/Docs - Graduate Students
Cost: FREE
Contact: Cindy Pingry

Group: WCCIAS
Co-Sponsor: The Latina and Latino Studies Program

Category: Global & Civic Engagement, Academic, Lectures & Meetings, Multicultural & Diversity
Description:
Register for this event:
https://bit.ly/lunchbox-elderhood
Please join us for the Global Lunchbox, a weekly conversation convened by the Weinberg College Center for International and Area Studies at Northwestern University featuring conversations with scholars about their current research on a range of global issues.
Our guests this week will be Mérida M. Rúa of Northwestern University and Katynka Z. Martínez of San Francisco State University, who co-edited a special issue of the journal Latino Studies on "The Art of Latina and Latino Elderhood" (forthcoming in December).
About the speakers
Mérida M. Rúa, a faculty member in the Latina and Latino Studies Program at Northwestern University, is an interdisciplinary scholar whose research and teaching focus on the history and politics of communities of color in U.S. cities. She is the author of A Grounded Identidad: Making New Lives in Chicago's Puerto Rican Neighborhoods (2012) and co-editor of Latino Urban Ethnography and the Work of Elena Padilla (2010) and Critical Dialogues in Latinx Studies: A Reader (2021). Rúa's current book project, "Migrations to Elderhood," chronicles the complex and multifaceted lives of older adult Puerto Ricans. Based on four years of qualitative research, including 60 interviews and ethnographic fieldwork, plus analyses of literary, visual, and performance cultures, it offers interdisciplinary insight into how this population talks about and makes meaning of their experiences and socio-spatial environments as they grow old.
Katynka Z. Martínez is Professor and Department Chair of Latina/Latino Studies at San Francisco State University. Her research areas include community journalism, visual culture, and community-generated artwork related to día de los muertos. She is Board President of Acción Latina, a nonprofit organization which publishes the bilingual newspaper El Tecolote. Her publications include "'I Exist Because You Exist': Teaching History and Supporting Engagement through Bilingual Community Journalism" in Civic Engagement in Diverse Latinx Communities: Learning from Social Justice Partnerships in Action (2018), "Latina/Latino Community Journalism: A San Francisco Case Study" in The Routledge Companion to Latina/o Media (2017), and "Being More Than 'Just a Banker:' DIY Youth Culture and DIY Capitalism in a High School Computer Club" in Hanging Out, Messing Around, Geeking Out: Living and Learning with New Media (2008).
Register for this event:
https://bit.ly/lunchbox-elderhood
Image: Credit Antonio Martorell "Super Adulto" (2011)