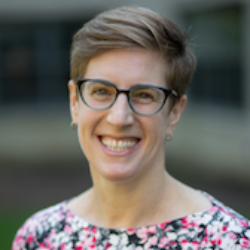 When: Tuesday, November 2, 2021
12:30 PM - 1:30 PM Central
Where: Online
Audience: Faculty/Staff - Post Docs/Docs - Graduate Students
Cost: FREE
Contact: Danny Postel

Group: Latin American and Caribbean Studies
Category: Academic, Lectures & Meetings, Global & Civic Engagement
Description:
Register for this event:
https://bit.ly/caribbean-cyberpunk
Please join us for this meeting of the LACS Faculty Colloquium, in which Northwestern professor Emily Maguire will discuss a chapter from her book-in-progress, "Tropical Time-Machines: Science Fiction in Contemporary Caribbean Literature and Film," in conversation with Edward King of the University of Bristol.
EMILY MAGUIRE is Associate Professor in the Department of Spanish & Portuguese and a faculty affiliate of the LACS Program at Northwestern. She specializes in modern Latin American literature and culture, with a focus on the Hispanic Caribbean and its diasporas. Her book Racial Experiments in Cuban Literature and Ethnography (University Press of Florida, 2011; 2nd edition 2018) shows how Cuban writers in the first half of the 20th century forged a literary space in which to write the nation by drawing from two forms of expression, ethnography and literature, in their re-valorization of Afro-Cuban culture as the source of Cuban-ness.
Professor Maguire's current book project explores the uses of science fiction in recent Caribbean literature and film. Portions of this research project have been published as: "Deformaciones literarias: Embriología, genealogía y ciencia ficción en El Informe Cabrera de José 'Pepe' Liboy" (Revista Iberoamericana, 2017) and "Walking Dead in Havana: Juan de los muertos and the Zombie Film Genre," in Simultaneous Worlds: Global Science Fiction Cinema, edited by Jennifer Feeley and Sarah Ann Wells (2015). Attached is a chapter from the book for those who wish to read it in advance.
EDWARD KING is Associate Professor in Portuguese and American Studies at the University of Bristol. A cultural theorist, he is the author of Science Fiction and Digital Technologies in Argentine and Brazilian Culture (2013) and Virtual Orientalism in Brazilian Culture (2015) and co-author of Posthumanism and the Graphic Novel in Latin America (2017). He is currently completing a monograph titled "Entwined Being: Twins in Digital, Visual and Literary Cultures."
Register for this event:
https://bit.ly/caribbean-cyberpunk