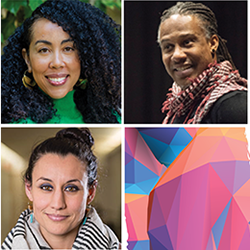 When: Tuesday, November 9, 2021
5:00 PM - 6:30 PM CT
Where: Online
Webcast Link
Audience: Faculty/Staff - Student - Public - Post Docs/Docs - Graduate Students
Cost: Free; public welcome.
Contact: Jill Mannor (847) 467-3970

Group: Alice Kaplan Institute for the Humanities
Category: Academic, Global & Civic Engagement
Description:
As many school districts across the U.S. move to ban the teaching of "Critical Race Theory" (CRT) in their schools, university-based scholars working on education, race, and racism are struggling to assert their expert voices in this now highly polemical public debate. This event brings two leading critical scholars in these fields to further contextualize the backlash against CRT in broader histories and structures of anti-black racism, while discussing what role critical scholars can/should play in engaging, empowering, and critiquing different publics on this issue.  
Panelists and Moderator
kihana miraya ross (panelist) is an assistant professor of African American Studies at Northwestern. Her research examines how Black students live antiblackness in what she calls the afterlife of school segregation. 
David Stovall (panelist) is an associate professor of Educational Policy Studies and Black Studies at the University of Illinois at Chicago (UIC). His research focuses on critical race theory and the relationship between schooling and prisons. 
Shirin Vossoughi (moderator) is an associate professor of Learning Sciences at Northwestern, whose work focuses on how learning can contribute to projects of educational justice. 
This event is presented by the Public Humanities Graduate Research Workshop of the Kaplan Humanities Institute which explores and promotes publicly engaged scholarship, and provides participants with opportunities to develop professional skills and networks to make their scholarship more relevant, legible, and meaningful to publics across and beyond the university.