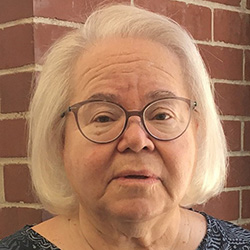 When: Friday, April 1, 2022
12:00 PM - 1:30 PM CT
Audience: Faculty/Staff - Student - Post Docs/Docs - Graduate Students
Contact: Emily Larsen (312) 503-1687

Group: Department of Neuroscience Seminars
Category: Lectures & Meetings
Description:
In 2020, the late James C. Houk, PhD, and his wife Antoinette made a bequest to establish the Dr. James Houk Graduate Fellowship in Physiology. Their gift provides funding to outstanding graduate students studying neurophysiology at Northwestern and supports the annual James C. Houk Lecture in Motor Control, presented by a renowned motor neuroscientist.
This year's Houk Scholar Priscilla Ambrosi, a student in Northwestern University's Interdepartmental Neuroscience (NUIN) PhD program, will host special guest Eve Marder, PhD, the Victor and Gwendolyn Beinfield Professor of Neuroscience at Brandeis University. Marder will give a talk entitled, "From Modulation of Small Motor Circuits to Climate Change."
Marder is known for her pioneering study of small neuronal networks using a combination of experimental and theoretical techniques. She is also a member of the National Academy of Sciences and a recipient of the Kavli Prize in Neuroscience.
Abstract
The crustacean stomatogastric nervous system houses two important central pattern-generating circuits that generate the fast pyloric rhythm and the slower gastric mill rhythm. Numerous studies now argue that individual neurons and these small circuits are degenerate, that is different sets of underlying intrinsic and synaptic currents can produce very similar motor patterns. This raises the question of whether these degenerate solutions can respond robustly and reliably to perturbations. Consequently, we have been studying a number of global perturbations, including temperature, pH and high extracellular potassium concentrations. While both the pyloric and gastric mill rhythms can operate over a range of temperatures, analysis of data collected over many years shows that ocean temperatures are correlated with the range over which these rhythms can function reliably.