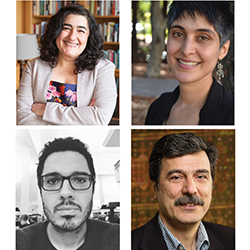 When: Wednesday, December 8, 2021
1:30 PM - 3:00 PM CT
Where: Online
Webcast Link
Audience: Faculty/Staff - Student - Post Docs/Docs - Graduate Students
Contact: Jill Mannor (847) 467-3970

Group: Alice Kaplan Institute for the Humanities
Co-Sponsor: Middle East and North African Studies

Category: Academic
Description:
A conversation with Naghmeh Sohrabi (Brandeis), Eskandar Sadeghi-Boroujerdi (Goldsmiths), and Manijeh Moradian (Barnard). Moderated by Behrooz Ghamari-Tabrizi (Princeton).
Recent scholarship has reinterpreted and expanded histories of the Iranian Left, troubling national/global and homeland/diaspora dichotomies and foregrounding the complexities of revolutionaries' social, intellectual, and emotional lives. Moving beyond conventional "failures of the left" discourse, these openings highlight the forms of theoretical and methodological creativity required to study multiple, dynamic meanings of leftist politics and the possibilities they hold for contemporary thought and praxis.
Co-sponsored by Northwestern's Alice Kaplan Institute for the Humanities, Buffett Institute for Global Affairs, and Middle East and North African Studies Program.
________________________
This talk is presented by The Colloquium for Global Iran Studies (CoGIS), a research workshop of the Kaplan Humanities Institute. CoGIS provides an interdisciplinary forum for scholars, intellectuals, artists, public figures, faculty, and students committed to deepening our knowledge and understanding of modern Iran in its global, regional, and historical contexts. Through a series of roundtables, public lectures, and events, as well as a sustained research and writing group, CoGIS supports the Northwestern community to consider the productivity of a global framework in the study of Iran and its diverse diasporas and peoples. CoGIS sets out to build the analytical and pedagogical tools necessary to un-learn persistent misconceptions and prevalent oversimplifications that explain away modern Iran and its diasporas and learn from those voices committed to rigorous and imaginative inquiry.