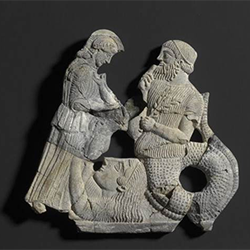 When: Thursday, December 2, 2021
3:30 PM - 5:00 PM Central
Where: Online
Webcast Link
Audience: Faculty/Staff - Student - Post Docs/Docs - Graduate Students
Cost: Free.
Contact: Jill Mannor (847) 467-3970

Group: Alice Kaplan Institute for the Humanities
Category: Academic
Description:
Professor Anna Darden (Department of Classics) will lead a workshop (via Zoom) titled The Snakes of Athens: Imagery and Legitimacy in Euripides' Ion.
The workshop will include discussion of the ways that the imagery of Greek tragedy draws from the visual environment, illustrated through Euripides' Ion and its engagement with the established connection in Athenian material culture between snakes, Athena, and Athens' royal family.
Presented by the Global Antiquities Research Workshop.
The Global Antiquities research group brings together Northwestern scholars who specialize in the study of the literatures, histories, and cultures of the ancient world, regardless of discipline or regional specialty. Our interests range from Mesopotamian art to Greek philosophy, from classical Latin poetry to Hindu Brahmin law, and from Tang dynasty China to Syriac and Coptic Christianity. The group (formed in the summer of 2017) gets together once or twice a quarter for colloquia, field trips, or invited talks. The group's goal is to enliven both the scholarship and the teaching of its members, and to offer a fresh and exciting take – interdisciplinary and global in essence – on antiquity more broadly, in order to make a significant contribution to the humanities within the university and beyond it.