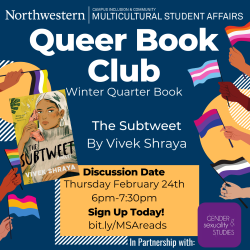 When: Thursday, February 24, 2022
6:00 PM - 7:30 PM Central
Audience: Student
Contact: Matt Abtahi

Group: Gender & Sexuality Studies Program
Category: Social
Description:
Are you interested in talking about LGBTQIA+ books and issues? Join the Gender and Sexuality Studies Program and Multcultural Student Affairs for a casual book club discussion on important works of LGBTQIA+ literature.
For Winter 2022, we will be reading The Subtweet by Vivek Shraya. 
"Everyone talks about falling in love, but falling in friendship can be just as captivating. When Neela Devaki's song is covered by internet-famous artist Rukmini, the two musicians meet and a transformative friendship begins. But as Rukmini's star rises and Neela's stagnates, jealousy and self-doubt creep in. With a single tweet, their friendship implodes, one career is destroyed, and the two women find themselves at the center of an internet firestorm.
Celebrated multidisciplinary artist Vivek Shraya's second novel is a stirring examination of making art in the modern era, a love letter to brown women, an authentic glimpse into the music industry, and a nuanced exploration of the promise and peril of being seen."
Please note that due to limited budget, we are only able to provide books to students who can commit to attending our virtual OR in-person discussion on Thursday Feb 24th, from 6 PM - 7:30 PM Central Time.
Contact Matt at matthew.abtahi@northwestern.edu for details or questions.