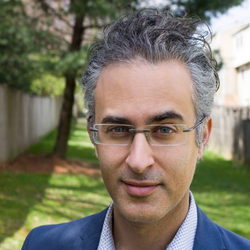 When: Monday, January 31, 2022
12:30 PM - 2:00 PM Central
Where: Online
Audience: Faculty/Staff - Student - Public - Post Docs/Docs - Graduate Students
Cost: Free
Contact: Danny Postel

Group: Middle East and North African Studies
Category: Lectures & Meetings, Academic, Multicultural & Diversity, Global & Civic Engagement
Description:
Register for the Zoom link:
https://bit.ly/visions-of-beirut
Please join us for the Winter 2022 event in the New Directions in Middle East and North African Studies series. Hatim El-Hibri, Assistant Professor of Film and Media Studies at George Mason University, will discuss his recent book Visions of Beirut: The Urban Life of Media Infrastructure (Duke University Press, 2021) in dialogue with Shayna Silverstein, Assistant Professor of Performance Studies at Northwestern and a core faculty member of the MENA Studies Program, and Kyle Craig, a PhD candidate in Anthropology and MENA Studies at Northwestern and co-chair of the MENA Graduate Student Group. 
About the book
In Visions of Beirut Hatim El-Hibri explores how the creation and circulation of images have shaped the urban spaces and cultural imaginaries of Beirut. Drawing on fieldwork and texts ranging from maps, urban plans, and aerial photographs to live television and drone-camera footage, El-Hibri traces how the technologies and media infrastructure that visualize the city are used to consolidate or destabilize regimes of power. Throughout the twentieth century, colonial, economic, and military mapping projects helped produce and govern Beirut's spaces. In the 1990s, the imagery of its post-civil war downtown reconstruction cast Beirut as a site of financial investment in ways that obscured its ongoing crises. During and following the 2006 Israel/Hizbullah war, Hizbullah's use of live television broadcasts of fighting and protests along with its construction of a war memorial museum at a former secret military bunker demonstrate the tension between visualizing space and the practices of concealment. Outlining how Beirut's urban space and public life intertwine with images and infrastructure, El-Hibri interrogates how media embody and exacerbate the region's political fault lines.
About the speaker
Hatim El-Hibri is Assistant Professor of Film and Media Studies at George Mason University, where he is also affiliated with the programs in Cultural Studies, and Middle East and Islamic Studies. He earned his Ph.D. in Media, Culture, and Communication from New York University, and previously was a faculty member at the Media Studies Program at the American University of Beirut (AUB). His research and teaching interests are in global media and communication studies, urban studies, media history and theory, visual culture studies, and Middle East studies. Visions of Beirut is his first book.
Praise for the book
"Hatim El-Hibri weaves a narrative that articulates concealment and infrastructure onto a conceptual terrain that transcends the empirical context of Lebanon. This engaging, groundbreaking, and indispensable book makes a truly meaningful and influential intervention in global media studies, Middle East studies, and urban studies."
—Marwan M. Kraidy, Dean of Northwestern University in Qatar (NU-Q) and author of The Naked Blogger of Cairo: Creative Insurgency in the Arab World
"Visions of Beirut is a compelling work of careful analysis and creative connections that proposes a historically informed set of powerful readings about the transformations of Beirut's public(s) and spaces. Hatim El-Hibri masterfully deconstructs outmoded assumptions about Lebanon's political economy and societies, unravelling instead the everyday visual infrastructures that sustain and reproduce forces such as sectarianism and financialization. The outcome is an important contribution that implores us to think critically about how image, its mediation, and infrastructures are remaking cities in today's world."
—Mona Fawaz, Professor of Urban Studies and Planning at the American University of Beirut
Register for the Zoom link:
https://bit.ly/visions-of-beirut