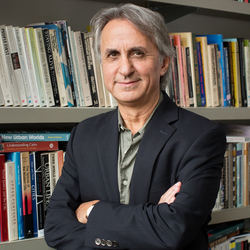 When: Monday, February 14, 2022
12:30 PM - 2:00 PM CT
Where: Online
Audience: Faculty/Staff - Student - Public - Post Docs/Docs - Graduate Students
Cost: Free
Contact: Danny Postel

Group: Middle East and North African Studies
Category: Global & Civic Engagement, Academic, Lectures & Meetings, Multicultural & Diversity
Description:
Register for the Zoom link:
https://bit.ly/asef-bayat
Please join us for this talk by Asef Bayat, Professor of Sociology and Catherine and Bruce Bastian Professor of Global and Transnational Studies at the University of Illinois, Urbana-Champaign, about his latest book, Revolutionary Life: The Everyday of the Arab Spring.
About the book
From the standpoint of revolutionary politics, the Arab Spring can seem like a wasted effort. In Tunisia, where the wave of protest began, as well as in Egypt and the Gulf, regime change never fully took hold. Yet if the Arab Spring failed to disrupt the structures of governments, the movement was transformative in farms, families, and factories, souks and schools.
Seamlessly blending field research, on-the-ground interviews, and social theory, Asef Bayat shows how the practice of everyday life in Egypt and Tunisia was fundamentally altered by revolutionary activity. Women, young adults, the very poor, and members of the underground queer community can credit the Arab Spring with steps toward equality and freedom. There is also potential for further progress, as women's rights in particular now occupy a firm place in public discourse, preventing retrenchment and ensuring that marginalized voices remain louder than in prerevolutionary days.
In addition, the Arab Spring empowered workers: in Egypt alone, more than 700,000 farmers unionized during the years of protest. Labor activism brought about material improvements for a wide range of ordinary people and fostered new cultural and political norms that the forces of reaction cannot simply wish away.
In Bayat's telling, the Arab Spring emerges as a paradigmatic case of "refolution"—revolution that engenders reform rather than radical change. Both a detailed study and a moving appeal, Revolutionary Life identifies the social gains that were won through resistance. 
About the speaker
Asef Bayat is Professor of Sociology and Catherine & Bruce Bastian Professor of Global and Transnational Studies at the University of Illinois, Urbana-Champaign. Previously he taught at the American University in Cairo for many years and served as the director of the International Institute for the Study of Islam in the Modern World (ISIM), holding the Chair of Society and Culture of the Modern Middle East at Leiden University, The Netherlands. His research areas range from social movements and social change, to religion and public life, urban space and politics, in the contemporary Middle East.
His recent books include Being Young and Muslim: Cultural Politics in the Global South and North (co-edited with Linda Herrera, 2010), Post-Islamism: The Changing Faces of Political Islam (2013), Life as Politics: How Ordinary People Change the Middle East (2013, 2nd edition), Revolution without Revolutionaries: Making Sense of the Arab Spring (2017), Global Middle East: Into the 21st Century (co-edited with Linda Herrera, 2021), and Revolutionary Life: Everyday of the Arab Spring (2021).