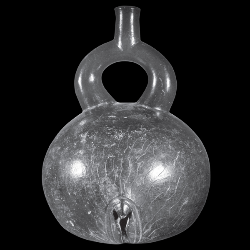 When: Friday, January 28, 2022
1:00 PM - 2:30 PM Central
Where: Online
Audience: Faculty/Staff - Student - Public - Post Docs/Docs - Graduate Students
Cost: Free
Contact: Danny Postel

Group: Latin American and Caribbean Studies
Category: Global & Civic Engagement, Academic, Lectures & Meetings
Description:
Register for the Zoom link:
https://bit.ly/moche-sex-pots
Please join us for this forum on Mary Weismantel's recently-published book Playing with Things: Engaging the Moche Sex Pots, with Essi Rönkkö and Kelly Wisecup of Northwestern and Rosemary Joyce of UC Berkeley.
About the book
More than a thousand years ago on the north coast of Peru, Indigenous Moche artists created a large and significant corpus of sexually explicit ceramic works of art. They depicted a diversity of sex organs and sex acts, and an array of solitary and interconnected human and nonhuman bodies. To the modern eye, these Moche "sex pots," as Mary Weismantel calls them, are lively and provocative but also enigmatic creations whose import to their original owners seems impossible to grasp.
In Playing with Things, Weismantel shows that there is much to be learned from these ancient artifacts, not merely as inert objects from a long-dead past but as vibrant Indigenous things, alive in their own human temporality. From a new materialist perspective, she fills the gaps left by other analyses of the sex pots in pre-Columbian studies, where sexuality remains marginalized, and in sexuality studies, where non-Western art is largely absent.
Taking a decolonial approach toward an archaeology of sexuality and breaking with long-dominant iconographic traditions, this book explores how the "pots play jokes, make babies, give power, and hold water," considering the sex pots as actual ceramic bodies that interact with fleshly bodies, now and in the ancient past. A beautifully written study that will be welcomed by students as well as specialists, Playing with Things is a model for archaeological and art historical engagement with the liberating power of queer theory and Indigenous studies.
About the speakers
Mary Weismantel is Professor and Chair of the Department of Anthropology at Northwestern, and is affiliated with the Latin American and Caribbean Studies Program, the Gender and Sexuality Studies Program, and the Center for Native American and Indigenous Research.  A cultural anthropologist, she writes about indigeneity in the Americas, with a focus on Andean South America (Peru, Ecuador and Bolivia). Her work engages new materialisms, decoloniality, and temporality, as well as [trans]gender, sexualities, and ontologies of the nonhuman. Her previous books include Food, Gender and Poverty in the Ecuadorian Andes (1989) and Cholas and Pishtacos: Tales of Race and Sex in the Andes (2001).
Rosemary Joyce is Professor of Anthropology at UC Berkeley. Her research is concerned with questions about the ways people employ things in actively negotiating their place in society, the lives and itineraries of objects, and the reframing of human engagement with the world in terms of materiality. She is the author of Gender and Power in Prehispanic Mesoamerica (2009), co-author of Material Relations: The Marriage Figurines of Prehispanic Honduras (2013) and Embodied Lives: Figuring Ancient Maya and Egyptian Experience (2014), and co-editor of Things in Motion: Object Itineraries in Anthropological Practice (2015), Disturbing Bodies: Perspectives on Forensic Anthropology (2015), and Mesoamerican Archaeology: Theory and Practice (2021).
Essi Rönkkö is Associate Curator of Collections at The Block Museum of Art at Northwestern. She worked for the Hood Museum of Art at Dartmouth College from 2009 to 2015, before joining the Block in 2016. Her work has focused on academic programming and curatorial projects related to the ancient Mediterranean with research interests that include gender and concepts of masculinity in the early Roman Empire. She is co-editor of Portrait of a Child: Historical and Scientific Studies of a Roman Egyptian Mummy (2019) and Who Says, Who Shows, What Counts Thinking about History with The Block's Collection (2021).
Kelly Wisecup is Associate Professor of English at Northwestern. She is a scholar of Native American literatures and textual cultures, early American literatures, and science and literature in the Atlantic world. She is the author of Medical Encounters: Knowledge and Identity in Early American Literatures (2013) and Assembled for Use: Indigenous Compilation and the Archives of Early Native American Literatures (2021). She is the editor of "Good News from New England" by Edward Winslow: A Scholarly Edition (2014) and co-editor of Plymouth Colony: Narratives of English Settlement and Native Resistance from the Mayflower to King Philip's War (Library of America, 2021).