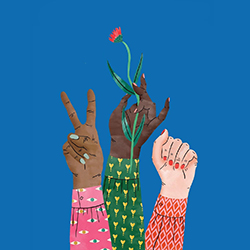 When: Thursday, May 5, 2022
5:00 PM - 6:00 PM Central
Where: Online
Audience: Faculty/Staff - Student - Public - Post Docs/Docs - Graduate Students
Contact: Eliot Colin (847) 491-5871

Group: Gender & Sexuality Studies Program
Category: Lectures & Meetings
Description:
What would it take to respond to harm without punishment, incarceration, abandonment? What are the possibilities for building a collective praxis of care with accountability, love with justice? How can we grow abolition and feminism through transformative justice? These are the questions at the heart of this evening's conversation with Ann Russo, author of Feminist Accountability: Disrupting Violence, Transforming Power (2019).
Ann Russo is a Professor in Women's and Gender Studies and the Director of the Women's Center at DePaul University. Her scholarship, teaching, and organizing focus on queer, antiracist, and feminist movement building to end violence and to build socially just and caring communities. In addition to Feminist Accountability, she is the author of Communities Engaged in Resisting Violence (2007) and Taking Back Our Lives: A Call to Action in the Feminist Movement (2001).
Part of Gender & Sexuality Studies speaker series (2021-22) on Black Feminist Praxis.