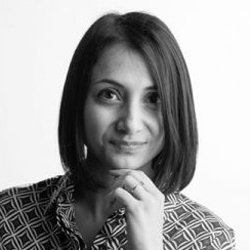 When: Wednesday, February 9, 2022
12:00 PM - 1:00 PM Central
Where: Online
Webcast Link
Audience: Faculty/Staff - Student - Public - Post Docs/Docs - Graduate Students
Cost: Free
Contact: Emily Rosman (847) 491-2527

Group: Northwestern Institute on Complex Systems (NICO)
Category: Academic, Lectures & Meetings
Description:
Speaker:
Fabiana Zollo, Assistant Professor, Dept. of Environmental Sciences, Informatics and Statistics, Ca' Foscari University of Venice
Title:
Polarization, Misinformation, and Hate: Investigating Social Dynamics with Online Data
Abstract:
The COVID-19 pandemic has highlighted the challenge of conveying and communicating complexity and uncertainty to the public, also given the increasing central role of the Internet and social media. Designed to maximise users' presence on the platform and to deliver targeted advertising, social media transformed the information landscape and have rapidly become the main information sources for many of their users. Information spreads faster and farther online, in a flow-through system where users have immediate access to unlimited content. This may facilitate the proliferation of mis- and dis-information, generating chaos, and limiting access to correct information. In this talk, I will provide an overview of how social dynamics and behavioural patterns can be investigated and analysed with online data, and discuss how data-driven insights can be used to design effective strategies to counter misinformation and improve the overall quality of the information system.
Speaker Bio:
Fabiana Zollo is an Assistant Professor in the Dept. of Environmental Sciences, Informatics and Statistics and Research Fellow in the Center for the Humanities & Social Change at Ca' Foscari University of Venice. Her research investigates information and misinformation spreading, social dynamics, and the emergence of collective narratives on online social media. She collected several papers on this topic, with both national and International co-authors. Since 2019, she is serving as an External Expert to the European Food Safety Authority (EFSA). She is a member of the Task Force "Data Science" established by AGCOM, the Italian Communications Regulatory Authority, and a member of the Working Group established by the Italian Presidency of Council to study the phenomenon of disinformation on COVID-19. 
Webinar:
https://northwestern.zoom.us/j/92493487525
Passcode: NICO2022
About the Speaker Series:
Wednesdays@NICO is a vibrant weekly seminar series focusing broadly on the topics of complex systems and data science. It brings together attendees ranging from graduate students to senior faculty who span all of the schools across Northwestern, from applied math to sociology to biology and every discipline in-between. Please visit: https://bit.ly/WedatNICO for information on future speakers.