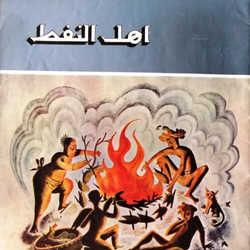 When: Monday, May 2, 2022
12:30 PM - 1:30 PM CT
Where: Kresge Hall, Trienens Forum, Room 1515, 1880 Campus Drive, Evanston, IL 60208 map it
Audience: Faculty/Staff - Student - Public - Post Docs/Docs - Graduate Students
Cost: Free
Contact: Danny Postel

Group: Middle East and North African Studies
Category: Lectures & Meetings, Academic, Global & Civic Engagement
Description:
This is a hybrid event
Register to participate via Zoom
When British Petroleum was looking to have their film The Third River translated into Arabic, they turned to Palestinian writer and painter Jabra Ibrahim Jabra, who worked as an editor for the Iraq Petroleum Company's influential in-house industry and culture publications. Better known for translating T.S. Eilot's The Wasteland and William Faulkner's The Sound and the Fury into Arabic, Jabra's correspondence also frequently appears in the archives of United States Cold War projects, such as Franklin Books and the CIA's Congress for Cultural Freedom. This talk will explore the intersection of oil, modernism, and empire, to consider how pipelines and energy infrastructure curate Arabic literature.
About the speaker
Elizabeth M. Holt is a literary historian and serves as associate professor of Arabic at Bard College in Annandale-on-Hudson, New York, where she co-directs the Middle Eastern Studies and Arabic programs. She is finishing a new book entitled "Imperious Plots: Cultural Infiltration and Arabic Literature in the Cold War," and has recently published articles on resistance literature and the Cold War in Beirut in the Journal of Palestine Studies, and on Sudanese novelist Tayeb Salih's CCF-published novel Season of Migration to the North in Research in African Literatures. Drawing upon extensive archival research, the book-length study shows that Arabic literature was a pivotal terrain of the cultural Cold War, through which the CIA infiltrated the increasingly Soviet-sponsored (if often Mao-inspired) cultural production of the Third World. The project has received generous support from the Forum Transregionale Studien in Berlin's Europe in the Middle East/the Middle East in Europe (EUME) program, and Bard College.
Holt is a founding member of Bard's Translation and Translatability Initiative, and is the author of Fictitious Capital: Silk, Cotton, and the Rise of the Arabic Novel (2017). The book reads early Arabic novels of late nineteenth- and twentieth-century Beirut and Cairo as fictions of global finance in the Eastern Mediterranean. Research was generously supported through a Fulbright IIE Grant to Cairo, a National Endowment for the Humanities fellowship at the American Research Center in Cairo, numerous smaller grants from Columbia University and Bard College, and a sabbatical from Bard spent as a research associate at the American University of Beirut. This funding allowed for extensive research in libraries and archives in Cairo, Beirut, Nantes, Aix-en-Provence, and in the New York area. She is at work on two new projects: a materialist study of 'petroculture' and the Arabic novel; and Arabic at Sea, on maritime mercantilism and Arabic storytelling from the fourteenth century.
This event is organized by the MENA Interdisciplinary Working Group on Institutional Histories of Aesthetic Forms.