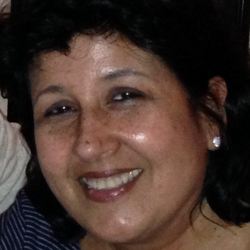 When: Friday, April 1, 2022
1:00 PM - 2:30 PM Central
Where: Online
Audience: Faculty/Staff - Student - Public - Post Docs/Docs - Graduate Students
Cost: Free
Contact: Danny Postel

Group: Latin American and Caribbean Studies
Co-Sponsor: Anthropology Department
Asian American Studies Program

Category: Academic, Lectures & Meetings, Multicultural & Diversity, Global & Civic Engagement
Description:
Please note that this event, though originally scheduled to take place in-person, will take place on Zoom.
Register for the Zoom link:
https://bit.ly/aisha-khan
Please join us (on Zoom) for the 2022 Nao Lecture, which will be delivered by NYU professor Aisha Khan, author of The Deepest Dye: Obeah, Hosay, and Race in the Atlantic World (Harvard University Press).
Abstract
In this talk, cultural anthropologist Aisha Khan will explore Hosay in the Caribbean, a mourning ritual deriving from its 7th-century origins as Muharram in the Persianate world. Over time, Hosay made its way to India and then, in the mid-19th century, it was brought to the Caribbean with indentured Indian laborers who called it Hosay. In its vast geographic and historical travels, Hosay incorporated multiple religious traditions, including Shi'a and Sunni Islam, Hinduism, and Christianity. While practitioners, scholars, and other observers recognize Hosay's religious multidimensionality as well as its diverse practitioners among Caribbean people of African, Indian, and European descent, Hosay is also typically categorized in singular ethnic or racial terms as "Indian." I argue that this is not so much a contradiction as it is a rich example of the racialization of religion and the religionization of race. Through an approach I call a parallax view, I conclude that racialization and religionization are processes that reveal the crucial role colonial strategies of criminalizing "unruly" subjects played, along with those subjects' challenges to that criminalization, in the construction and deployment of identities in plantation societies, notions that remain resonant in the Caribbean today. 
About the speaker
Aisha Khan is a professor of Anthropology at NYU. She also has an appointment in NYU's Prison Education Program, and has had a long affiliation with the Center for Latin American and Caribbean Studies. Her research focuses on the Atlantic world, with an emphasis on the West Indies, race, Asian and African diaspora, colonialism, and religious traditions, including Muslim communities in the Caribbean. Her current project is on carceral states. She has published in numerous journals and anthologies, and her books include Callaloo Nation: Metaphors of Race and Religious Identity among South Asians in Trinidad (Duke University Press), Islam and the Americas (University Press of Florida), and, most recently, The Deepest Dye: Obeah, Hosay, and Race in the Atlantic World (Harvard University Press).
Northwestern University's Nao Lecture is a series of annual talks that focus on social, economic, and cultural connections across the Pacific, with particular emphasis on Asian diasporas in Latin America and the Caribbean. Like the nao, the Manila galleon that first connected Asia and the Americas, the lectures aim to bring together different societies and communities across traditionally great spatial and intellectual distances.
co-sponsored by the Asian American Studies Program and the Department of Anthropology
Register for the Zoom link:
https://bit.ly/aisha-khan