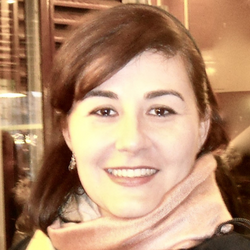 When: Friday, May 13, 2022
1:00 PM - 2:30 PM Central
Where: Online
Audience: Faculty/Staff - Student - Public - Post Docs/Docs - Graduate Students
Cost: Free
Contact: Danny Postel

Group: Latin American and Caribbean Studies
Category: Academic, Lectures & Meetings, Multicultural & Diversity, Global & Civic Engagement
Description:
Register for this event:
https://bit.ly/lacs-may-13
Please join us for this lecture by Paola Schiappacasse of the University of Puerto Rico, Río Piedras.
The study of archaeological collections is critical to understanding the history and development of archaeology and museums. In this presentation, Paola Schiappacasse will reflect on the difficulties experienced by local Caribbeanists to study heritage currently located in museums, foundations, and universities outside the region. Then, she will demonstrate that studying collections from the 19th and early 20th century sheds light on contributions made by local people who were involved in finding, acquiring, and exchanging artifacts, and helps reshape the narrative that only ´foreigners´ were responsible for the growth of the discipline. Various case studies from Puerto Rican collections will highlight the type of documentation that can be consulted and ways to unveil new understandings of the dynamics that took place. Finally, recent, and future lines of research will be presented to encourage archaeological collections-based research.
Paola Schiappacasse is an anthropologist who specializes in Caribbean historical archaeology. Currently, she is as an adjunct professor in the Department of Sociology and Anthropology, University of Puerto Rico, Río Piedras. Dr. Schiappacasse has been invited faculty in postgraduate programs in Puerto Rico, Colombia and the Dominican Republic. She has worked in over a hundred cultural resources management projects, and as a museum consultant. She serves on various committees of the Society for American Archaeology, Society of Historical Archaeology, and the Register of Professional Archaeologists. Her research interests include history, archaeology and architecture of the Spanish Caribbean, health and sanitation, documentary archaeology, collections management, and decolonization of archaeology.